Pizza is a perfect football food. This easy recipe for pull apart pizza uses conveniently packaged ingredients and bakes up in 30 minutes. Your family will devour this pizza before the first quarter is over!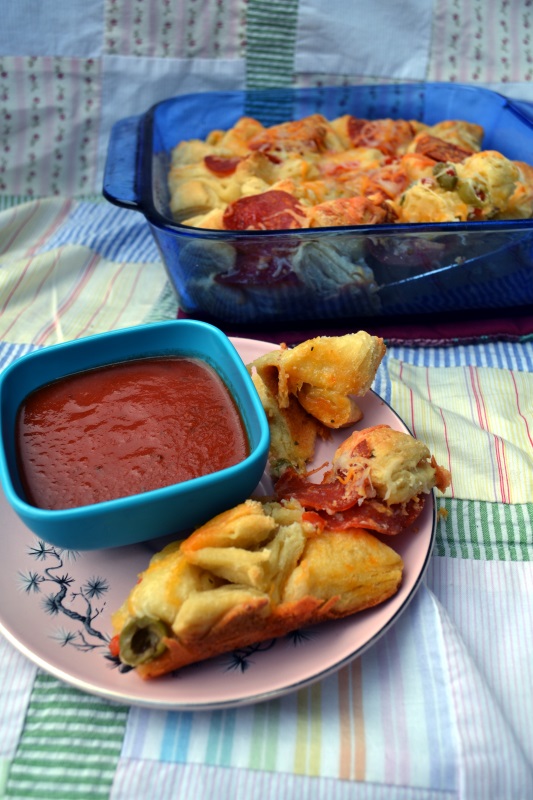 Who doesn't love pizza? I love this recipe because it assembles quickly and bakes up in short order. My family loves the way the pieces pull apart into perfect serving sizes!
In fact, I usually have to make multiple casserole pans full of this pizza to satisfy my crowd.
You know, in Ohio, we take football seriously. Almost as seriously as they do in Texas. (don't tell the Texans!)
When the favorite Ohio team is playing, there are few cars on the streets, nobody in the stores, and nearly everybody is in front of the TV or the Radio listening to the game.  Even my mother is concerned about who wins on Saturday.
(True confession: I'm not a football fan and I've discovered that game time is a great time to go grocery shopping… if I'm not invited to a tail gate party, that is!)
I love football food!!
Game Day Pull Apart Pizza Recipe
Ingredients:
1 pkg (12 oz) Dinner Biscuits
20 slices Pepperoni
1/c c Green Olives
1`TB minced Garlic
1 c Shredded Mozzarella / Cheddar Cheese
1/2 c Parmesan Cheese
1 TB Italian Spice Mix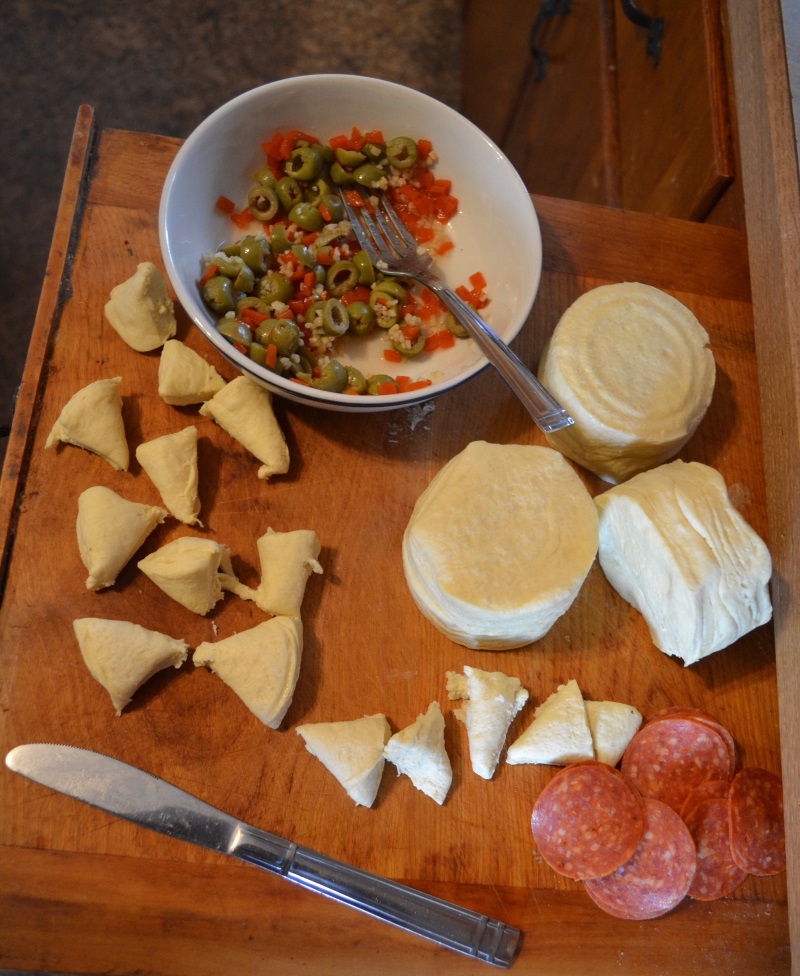 Recipe Directions:
Preheat oven to 350 degrees Fahrenheit.
Cut the pepperoni slices in half, set aside.
In a small bowl mix the Parmesan cheese and Italian spices, set aside. In another small bowl mix the garlic and olives.
Grease an 8×8 inch or 9×9 inch baking dish.
Open the package of biscuits and separate the biscuits. Cut each biscuit into four pieces.
Roll each piece of biscuit dough in the spiced Parmesan and begin placing a layer of biscuit in the pan.
Spread some olive & garlic mixture, pepperoni slices and cheese. Repeat the layers.
Top with cheese and leftover Parmesan mixture.
Bake at 350 degrees for 30-40 minutes until biscuits are baked through.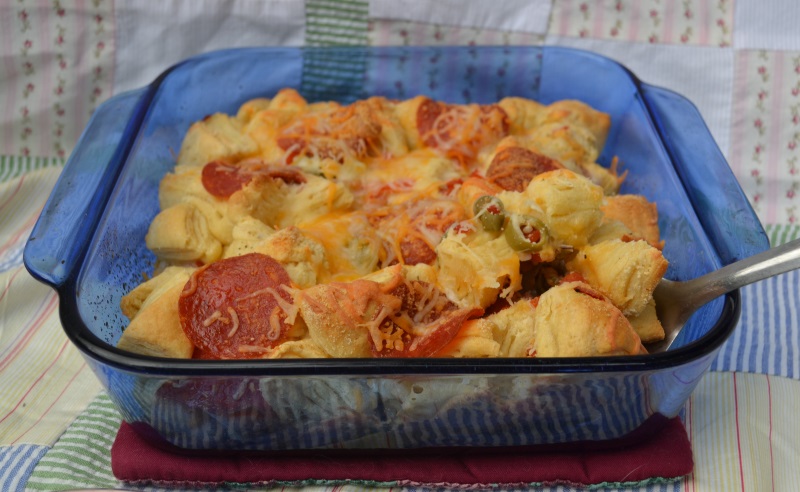 Approximate Nutritional Information:
Servings Per Recipe: 4, Amount Per Serving: Calories: 350, Fat: 12g, Cholesterol: 8mg, Sodium: 500mg, Total Carbs: 48g, Protein: 3g.
Make It a Meal:
Serve at the tail gate party with Sloppy Joes. If you're having a quiet day at home with this dish, add a bowl of soup to fill you up.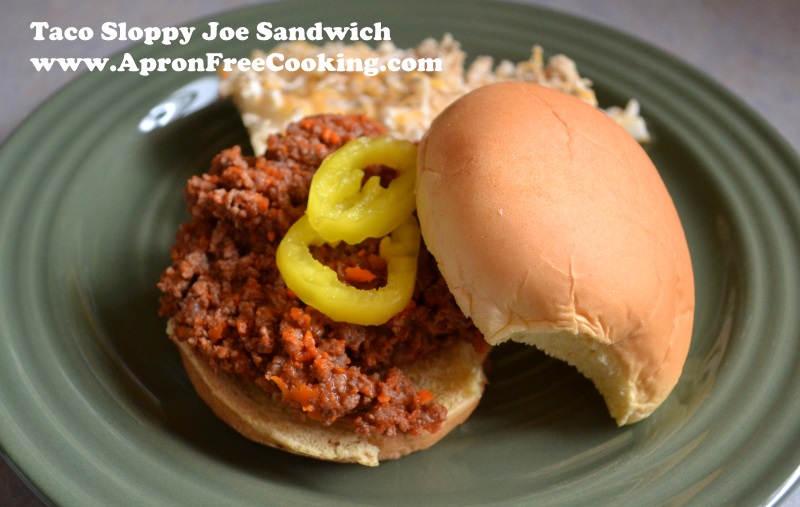 Variations:
Add sliced mushrooms, black olives or other favorite pizza toppings. Serve with Ranch dressing. If you're planning on hosting the big game, double this recipe and bake in a 9×13 pan.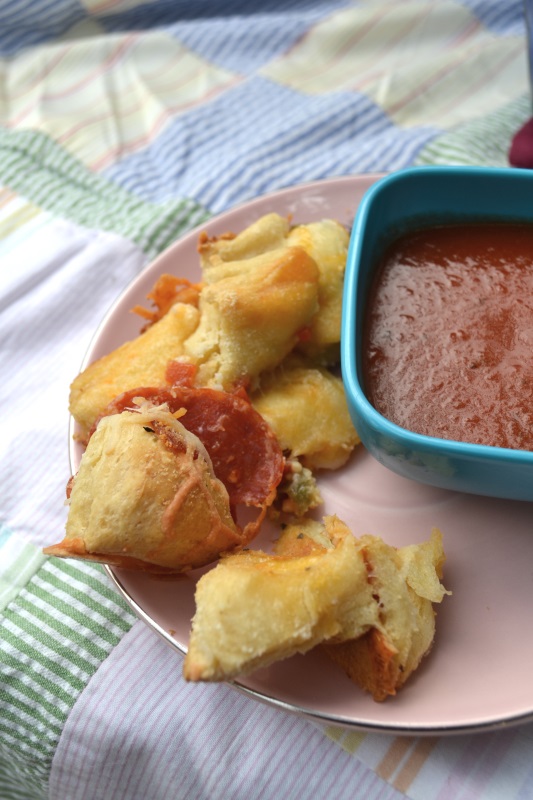 What's your favorite football food? Who's your team? 
So while you're watching the game, bake up some of this pull apart pizza to snack on during half time! If you like this recipe, go ahead and share it!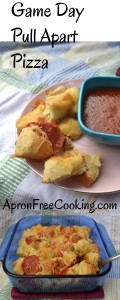 Follow Apron Free Cooking on Pinterest, Facebook or Twitter to stay up to date on all my favorite finds!
This recipe featured on: