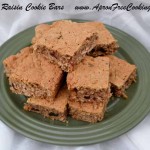 Oatmeal raisin cookies are at the top of the all time favorite cookie list. In fact, in recent surveys of home made cookie favorites, the chocolate chip cookie was first, peanut butter second and oatmeal raisin third.
I would agree that chocolate chip is my favorite, but I'm at a loss to pick a clear second or third place … peanut butter and oatmeal raisin are tied at second place.
My husband is definitely a peanut butter cookie fan, and when I make a batch of those, I just plan on leaving the eating to him!
At least when I make oatmeal raisin cookies, I have a chance of eating some of them!
I've found that bar cookies last just a little longer than cookies made in the traditional "drop" manner. They're also easier to bake, since it's just one trip through the oven for the pan full! 
Oatmeal Raisin Cookie Bars
Ingredients
1 cup butter or margarine
1 cup white sugar
1 cup brown sugar
2 eggs
1 tsp vanilla
2 tsp cinnamon
2 cups flour
1 tsp baking soda
1 tsp salt
3 cups oatmeal
1/2 cup raisins
Instructions
Preheat oven to 375 degrees Fahrenheit.
In a large sized mixing bowl, mix together the butter, eggs, vanilla, white sugar and brown sugar.
In a separate, medium bowl, mix the dry ingredients: flour, cinnamon, baking soda, salt and oatmeal.
Add the raisins to the dry ingredients and mix to coat.
Mix the dry ingredients into the butter and sugar mixture a little bit at a time, mixing well between additions.
Scrape the batter into a greased 9 x 13 baking dish.
Bake at 375 degrees Fahrenheit for 30 minutes.
Cookies are done when a tooth pick inserted into the middle comes out clean.
Notes
Approximate Nutrition Information: Servings Per Recipe: 24, Amount Per Serving: Calories: 65, Fat: 2g, Cholesterol: 5mg, Sodium: 81g, Total Carbs: 10g, Protein: 1g.
Make it a Meal: Serve for breakfast with coffee and milk!
Variations: Add some white chocolate chips, chopped walnuts or some dried cranberries to change up the flavor of these delicious cookies.
http://www.apronfreecooking.com/recipes/oatmeal-raisin-cookie-bars/
Copyright: www.ApronFreeCooking.com
How to Make Bar Cookies
Making bar cookies or cookie bars is almost too simple to spend much time explaining. The greatest thing about bar cookies is the time and energy savings – you only need a single pan and your oven only heats for a single round.
You save time by not scooping all those spoonfuls of dough and dropping them onto cool cookie sheets. (Does anybody really wait for a cookie sheet to cool between batches?!)
I like being able to put a pan in the oven, setting a timer and walking away to do one of the other waiting household chores. You really can't do that with batches of drop cookies – or at least, I can't. I always end up with that one batch of hockey puck style cookies – blackened and rock hard.
When the cookies are burnt to the blackened state, you can't even get away with calling them "Biscotti".
If you can bake a pan of brownies, you can bake bar cookies. Start with your favorite basic cookie recipe, mix the dough and when you're ready to bake, simply spread it into a baking dish. Bake for about thirty minutes, as you would brownies.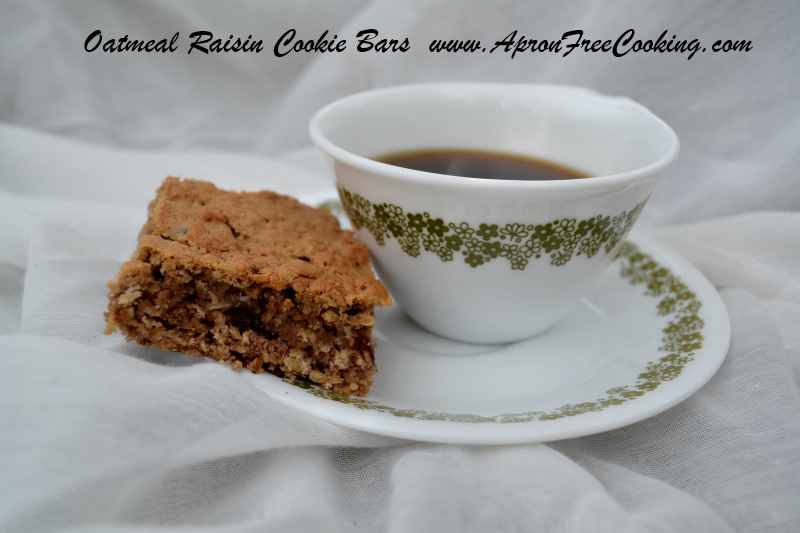 Cookies for Breakfast
Another great reason for making oatmeal raisin cookies in a bar shape, is so that you can eat them for breakfast and not feel guilty!
I mean, a cookie bar looks awfully much like a granola bar, or even a muffin. Everybody knows those are breakfast foods!
And let's face it, something that contains oatmeal and raisins has to be healthy, right?!
But seriously, if you want to really make this recipe into a breakfast treat, add some chopped nuts (about a cup full) and sprinkle them over the batter prior to baking. Another variation would be to mix in a cup of dried cranberries or blueberries along side the raisins to increase the fiber content.