A mocha chocolate cake full of decadent flavor is just what the doctor ordered. I don't care what the diagnosis is… this cake is the remedy! Not only is it delicious, it's easy to make.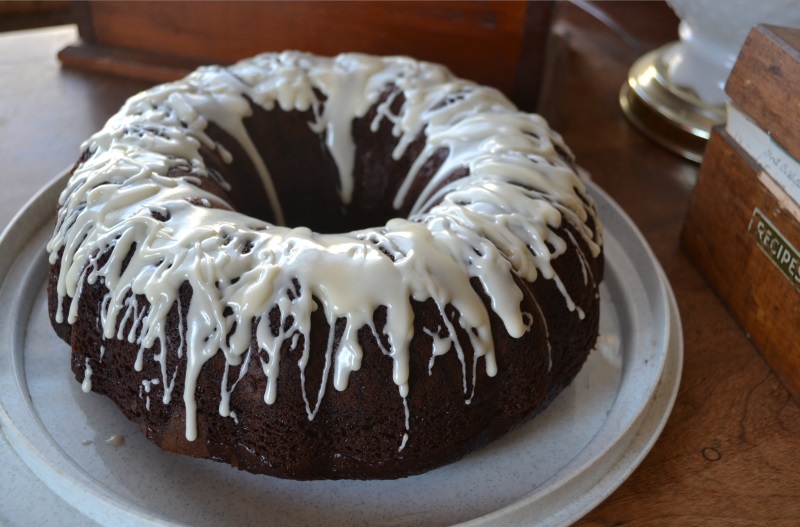 The trick to this fantastic looking cake is a packaged cake mix. That's what makes it so easy! Add some leftover coffee and you're on the way to greatness.
Now, if you have a great chocolate cake from scratch recipe that you love, by all means, use that. I'm just not that good at scratch baking. No matter how hard I try. So I rely on the #ConvenienceCooking of packaged cake mixes. And let's face it, there are some really good ones on the market.
And since I usually have at least a cup of left over coffee around the house, it's easy for me to add some to the batter. If you don't have left over coffee, this is your excuse to brew a pot!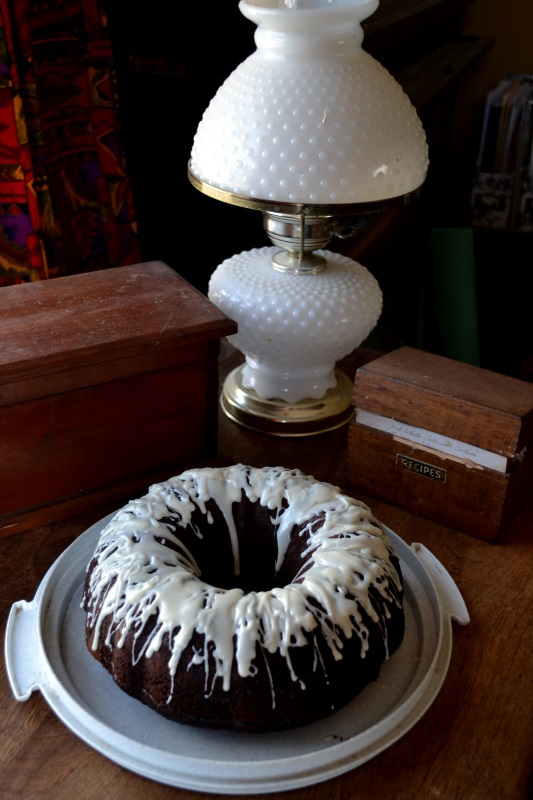 I made this mocha chocolate cake with the intention of taking it to a family gathering. Since traveling with cakes, even in your own vehicle and only 20 minutes down the road is nearly a guarantee your cake will slide off the pretty plate, I used my trusty old Tupperware cake carrier. As you can see from the picture above.
I don't know if they still make this great carrier, but my mom had one in the 1970s and I obtained mine in the 1990s. Let me tell you, we each have used the heck out of our carriers. Turn them upside down and they make a great air tight storage container for cookies and chips and all sorts of things!
At any rate, this mocha chocolate cake was a hit.  A few people even had a second slice. You know you've got a winning recipe when people go back for additional servings.
You know it's good when they eat seconds! Make this Mocha Chocolate Cake and watch it disappear!
Click To Tweet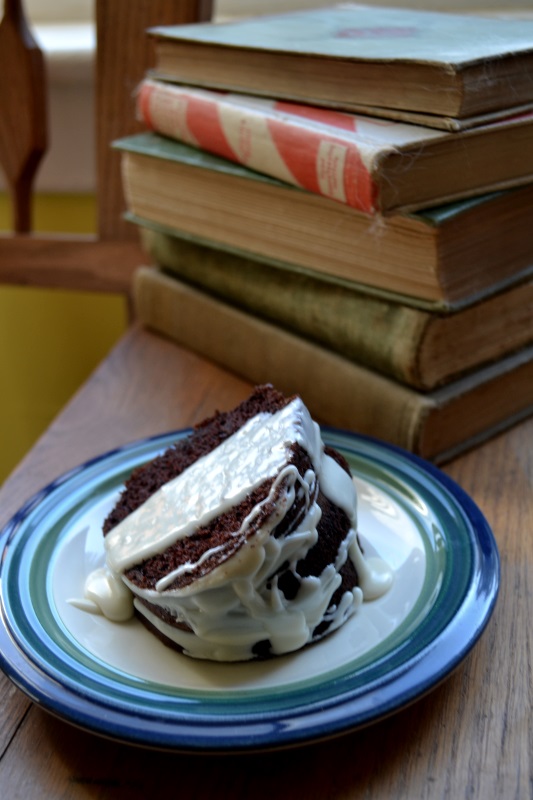 Take this cake to gatherings that include coffee lovers, you'll be the most popular person in the room! I served it with an extra drizzle (very generous drizzle, I might add) as you can see above. That probably upped the calorie count quite a bit.
If you want to top your cake with ice cream or even a light whipped cream, you'll be making some friends.
Pin It!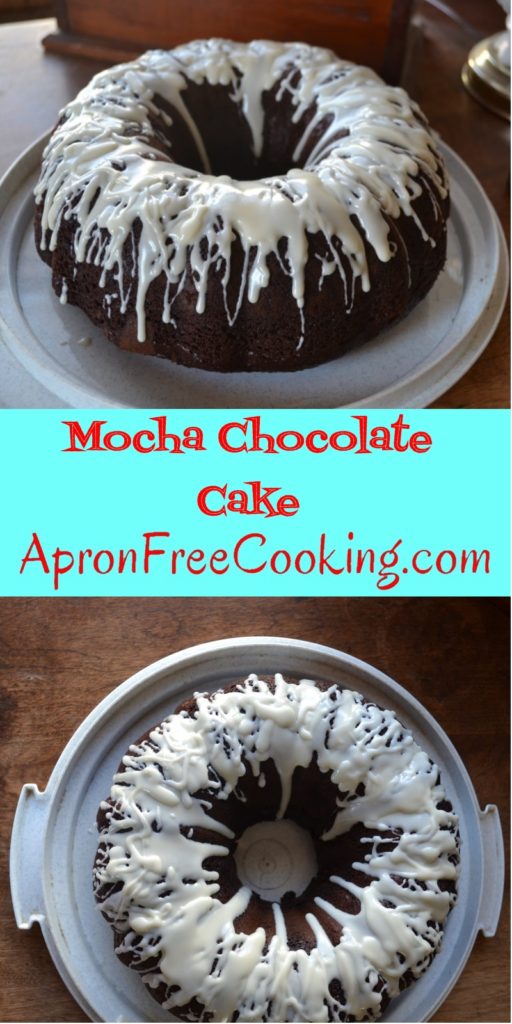 Mocha Chocolate Cake Recipe
Ingredients:
16

oz

Devil's Food Cake Mix

1/4

cup

Coffee Grounds

1/3

cup

Cooking Oil

3

large

Eggs

1

cup

Coffee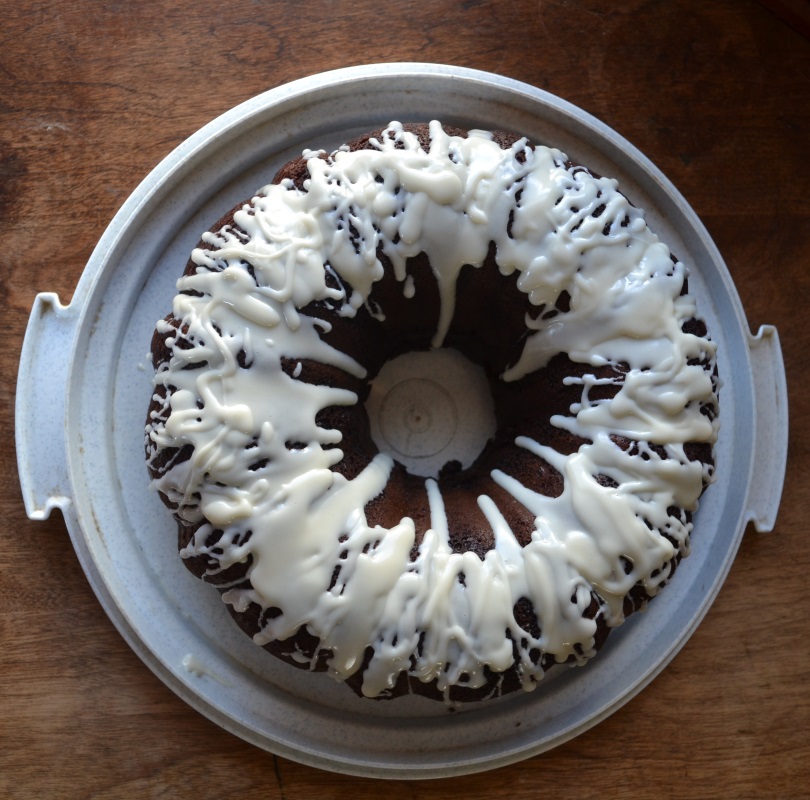 Recipe Directions:
Preheat oven to 350 degrees Fahrenheit or according to package directions.
Prepare cake pan by greasing the bottom and sides with butter or spraying with cooking spray.
In a large bowl, combine cake mix and coffee grounds.
Add wet ingredients: Oil, Eggs, Coffee. (use cooled to room temperature coffee, not hot)
Mix well, pour into prepared cake pan.
Bake at 350 degrees for 35-40 minutes or until toothpick inserted to cake comes out clean. Adjust according to package directions for cake pan and altitude specifics.
Remove from oven and allow to cool for 10 minutes in pan, then invert to serving plate. Allow to cool completely.
Top with icing and serve.
Approximate Nutritional Information:
Servings per Recipe: 12, Calories: 352, Fat 14g, Cholesterol: 55mg, Sodium: 299mg, CarbsL 1g, Protein: 5g.
Shop Apron Free Cooking on Etsy
Follow ApronFreeCooking:
Twitter – @ApronFreeCook
This post may contain affiliate links . There are no additional costs passed on to you if you click on the links in this post. Any money earned from commission helps me cover the cost of maintaining this website.