Kids love to make Easter Cake! This is a simple cake to make that the children will have so much fun decorating! All you need is a cake and some store bought candies!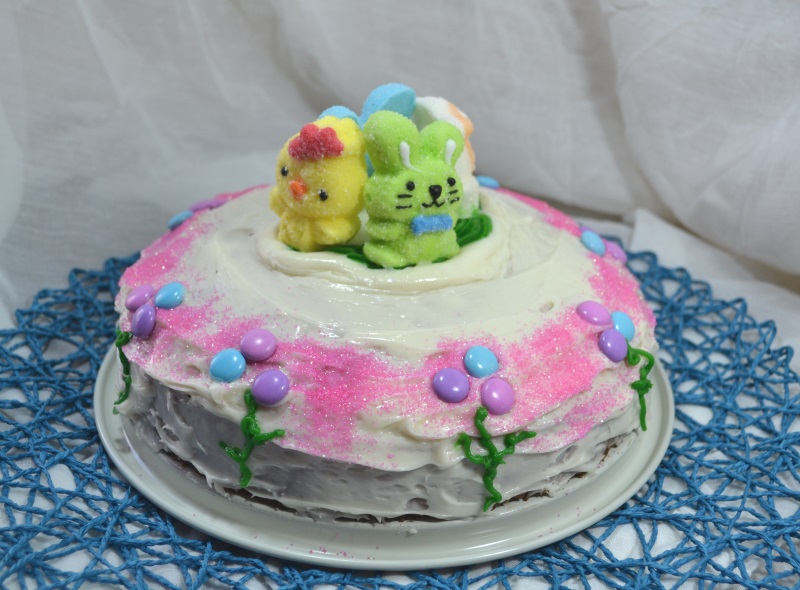 Of course, a few sprinkles can't hurt anything either! You don't need fancy cake decorating skills to make this cake. It's really all about the fun of decorating.
As you can see, this is a super simple cake when it comes to decorated cakes. That's ok, because mostly we just want to eat a cake. Right? Looking at fancy decorated cakes in social media videos is fun and entertaining and amazing and all that. But, did you ever think, "I want to make that cake"? I usually think "Wow! That's an amazing cake".
This is a cake for the masses. For the regular people. A cake for people who wish they were really amazing cake decorators, but aren't. It's really a cake to make with the kids or grandkids. To have fun making. This is a cake for making memories. And Trust Me. It's Easy.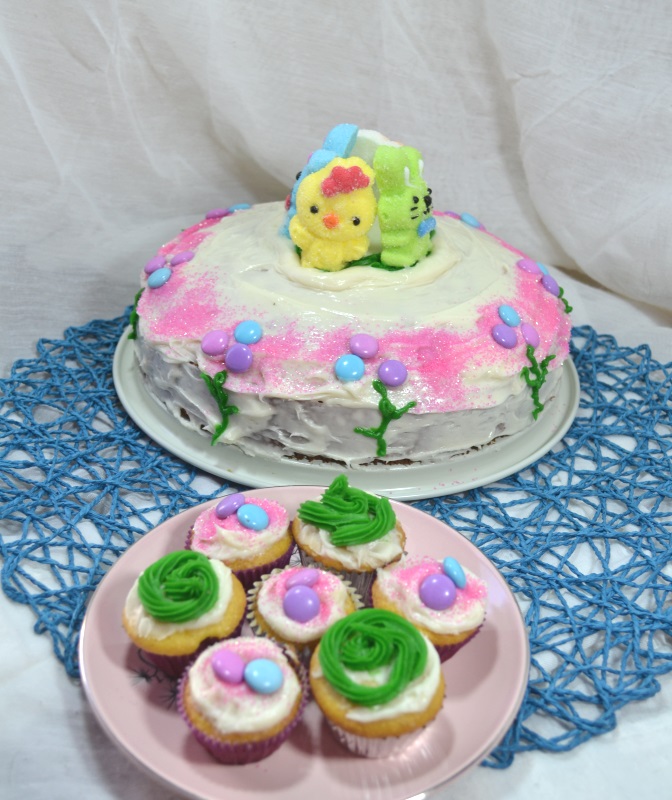 As you can see, I used some store bought candy treats. These are available everywhere between Valentine's Day and the few days after Easter. You could make this cake and eat it for just a "special Wednesday treat" and not wait until Easter.
And honest to goodness, what is a decorated cake without sprinkles?!  A few years ago, I amade this bunny cake with my nieces. Let me tell you, that was a sprinkle-fest gone wild. (Maybe there's a new reality TV show – Sprinkles Gone Wild!)
We made that cake at my parent's house. My dad had the best time watching the grandkids go crazy with the sprinkles! I'm not sure we ate the icing, but probably scraped it off to the side, because, wow, that's a lot of sugar right there. Almost makes my teeth hurt looking at the picture!
Today's cake is a bit tamed down in comparison! I found some off brand marshmallow bunny treats in the shape of four cute little critters: bunny, chickie, and lambie. Ok, that description was about as sugar saccharine filled as the sprinkle explosion cake. I'm going to have a cup of coffee.
Let the kids decorate this Easter cake with Peeps!
Click To Tweet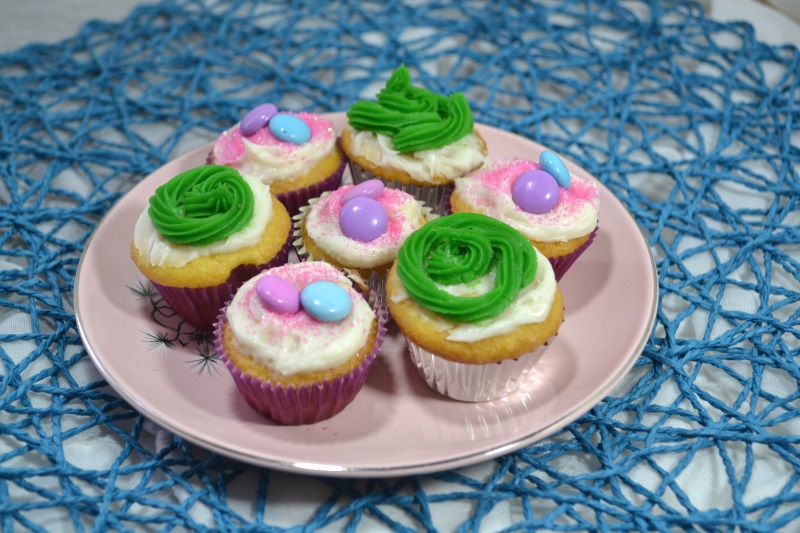 Since we only made a single 9 inch layer cake to decorate, we had a bit of cake batter left over. Viola! Mini cupcakes to save the day! I love the mini cupcakes because they are bite sized – pop one in your mouth, no mess, no fuss, just goodness.
Pin It!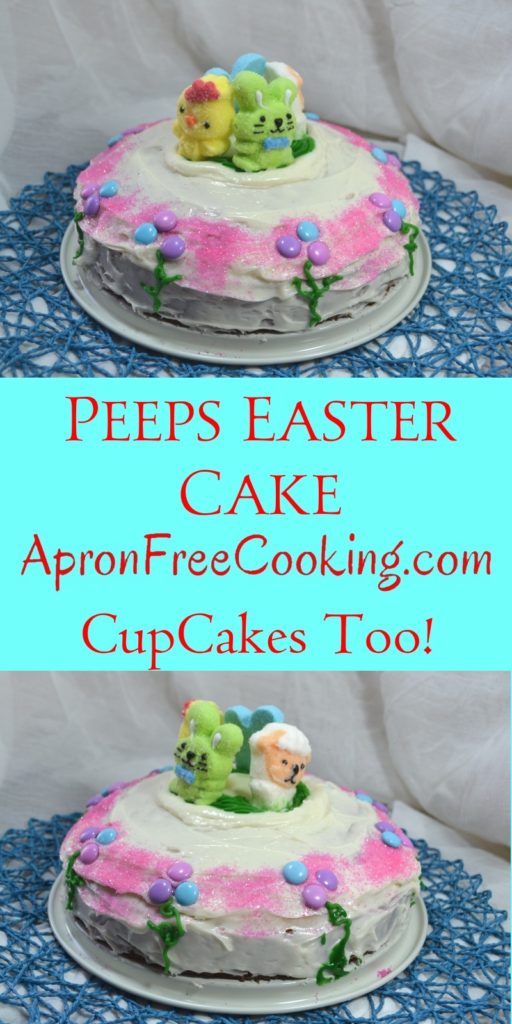 Easter Cake Recipe
Ingredients:
16 oz Cake Mix
16 oz Icing
5 oz Colored Icing
Sprinkles
Easter Candy
Recipe Directions:
Prepare cake mix according to package instructions. (add egg, water, oil, bake)
When cake has cooled, spread icing over entire cake.
Allow children to apply sprinkles, candies and decorative icing at will.
Approximate Nutritional Information:
Servings Per Recipe: 8, Amount Per Serving: Calories: 315, Fat: 12g, Cholesterol: 47g, Sodium: 280mg, Carbs: 42g, Protein: 4g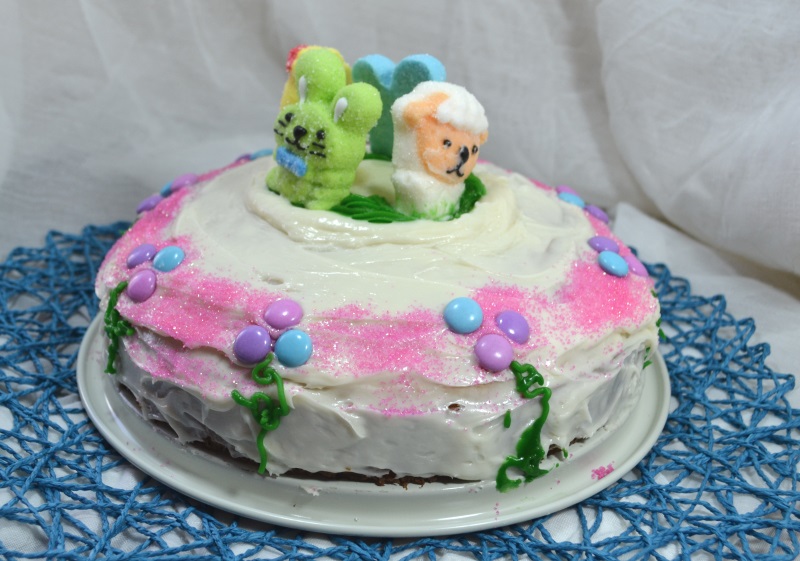 Shop Apron Free Cooking on Etsy
Follow ApronFreeCooking:
Twitter – @ApronFreeCook
This post may contain affiliate links . There are no additional costs passed on to you if you click on the links in this post. Any money earned from commission helps me cover t