What do you eat with your #PSL (Pumpkin Spice Latte)? I'm having this pumpkin spice monkey bread. It's homemade in just a few minutes and packing all the seasonal flavors you love. You can make this pull apart bread in just a bit longer than it takes coffee to brew.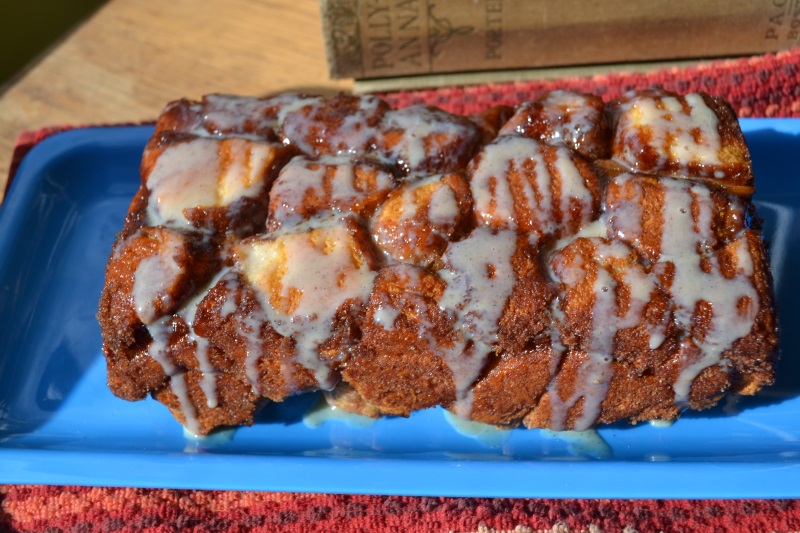 Made with easy to find ingredients and taking advantage of some prepackaged items, this bread is so simple; you'll want to make this every day.
The best part about this pull apart bread is that no matter what your skill level when it comes to baking, you can make this. I promise, I'm not the world's best baker. I'm much better at the other cooking arenas … but I made this Pumpkin Spice Monkey Bread this morning and got rave reviews!
What's the secret? Well, it's my favorite bread dough … prepared honey layer biscuits from the grocers refrigerator case. Pick a brand and a style of canned biscuits and you're in business.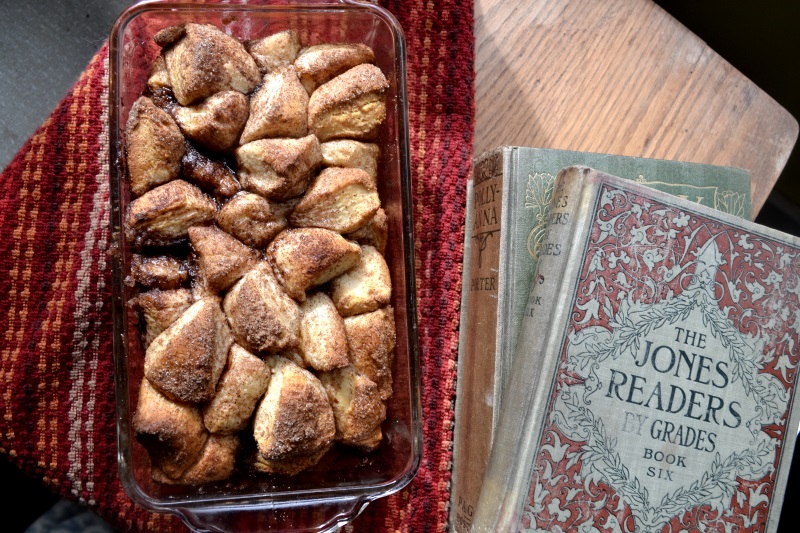 Pumpkin Spice Monkey Bread is the perfect snack to go with your #PSL
Click To Tweet
And since 'tis the season for all things pumpkin spice, I mixed up my usual Monkey Bread recipe by replacing the normal spices with a healthy dose of Pumpkin Pie Spice. I had some on the shelf in preparation for the upcoming holiday season and the traditional Pumpkin Pies. Yeah, I might need to buy more before November arrives.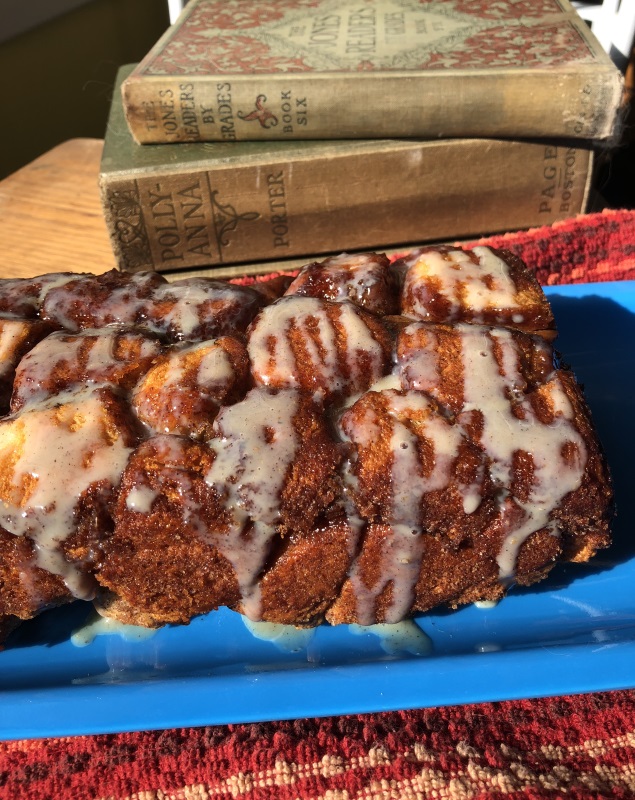 And remember that Campfire Chai concentrate? I used a smidge of that on top this Pumpkin Spice Monkey Bread as a glaze. Look at it! It's perfect for the job. Of course, you can use your favorite icing or mix up a quick glaze with some powdered sugar, butter and milk.
Make It a Meal:
As mentioned, this is perfect with a cup of Campfire Chai. Add it to a brunch menu alongside Banana Bread and Blueberry Coffee Ring, your family will love it.
Pin It:
If you love this recipe and want to save it for later, pin it to your Pinterest account.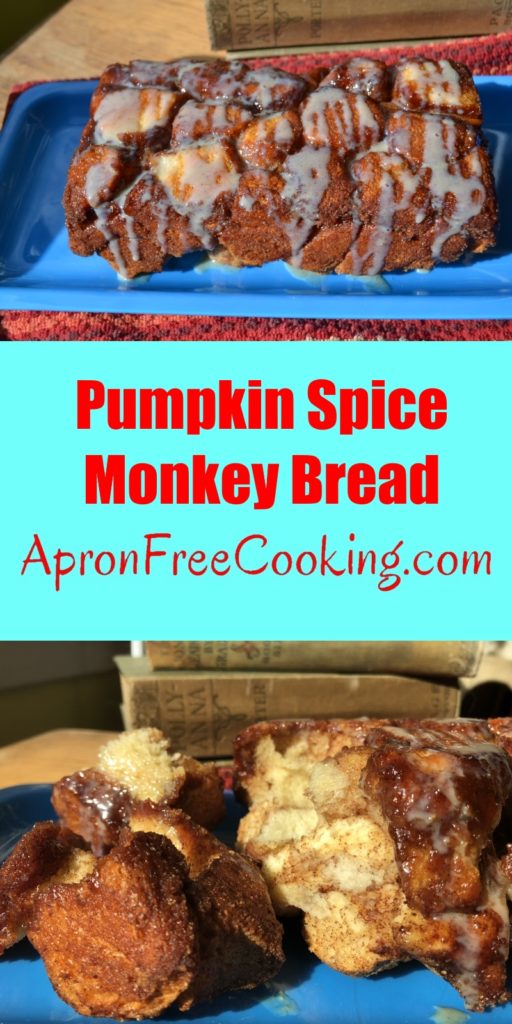 Just look at that bite! Those spices and that glaze … mmm, mmm, good. Warm, right out of the oven is the best way to serve this Pumpkin Spice Monkey Bread. It will keep in the refrigerator for a few days, if you really need to store some left overs! Of course, you'll want to warm the leftovers in the microwave for a few seconds when you're ready to eat the,
Pumpkin Spice Monkey Bread Recipe
Ingredients:
16 oz refrigerator Biscuits
1/3 c Brown Sugar
1/4 c White Sugar
2 tsp Pumpkin Pie Spice
3 T Butter
Recipe Directions:
Preheat oven to 350 degrees Fahrenheit.
Grease a 5×9 loaf pan.
Mix brown sugar, white sugar and pumpkin pie spice in a small bowl.
Open biscuits and cut each biscuit into 6 pieces.
Roll biscuit pieces in spice mix and place in loaf pan.
Cut butter into small bits and drop onto biscuits. Pour remaining spice and sugar mix over top entire pan.
Bake 30-35 minutes at 350 degrees.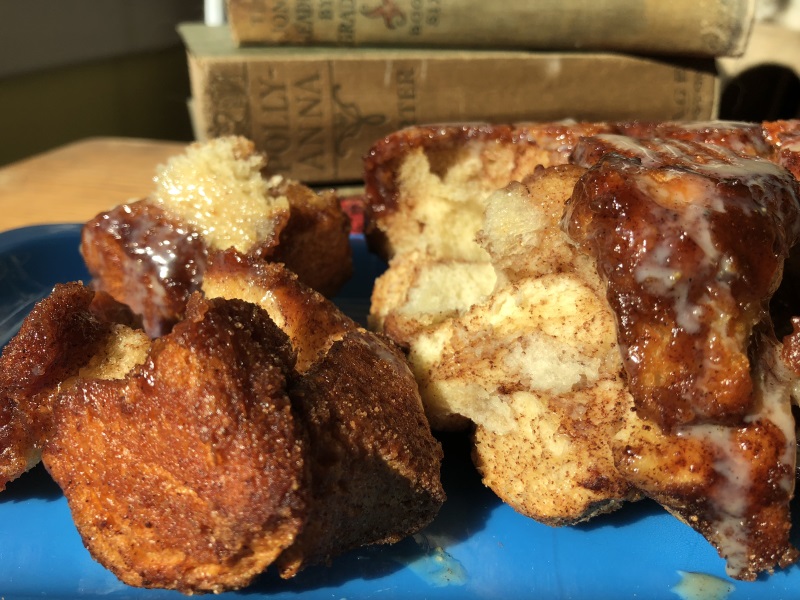 Approximate Nutritional Information:
Servings Per Recipe: 10, Amount Per Serving: Calories: 120, Fat: 2g, Cholesterol: 20g, Sodium: 380mg, Carbs: 15g, Protein: 7g
(please remember these are approximate and will vary slightly based on your ingredient selections.)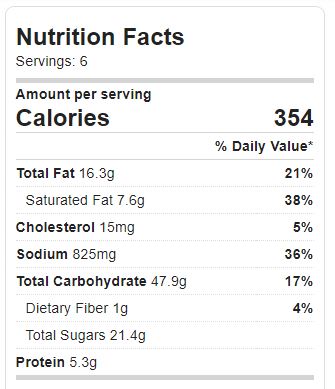 Shop Apron Free Cooking on Etsy
Follow ApronFreeCooking:
Twitter – @ApronFreeCook
This post may contain affiliate links . There are no additional costs passed on to you if you click on the links in this post. Any money earned from commission helps me cover the cost of maintaining this website.