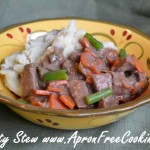 A hearty, hot, filling stew is just the ticket for meals on a cold, snowy day. We're having another winter storm roll through our area this weekend. Forecasts have been calling for everything from rain, freezing rain, and ice to snow (inches of it!).
I'm tired of being cold. While I appreciate the beauty of a snow covered neighborhood, I think I'm ready for some sunshine and blue skies and warm temperatures.
Yesterday the temps hit the mid 40s and you would have thought we were having a heat wave, as many people were running around in shirt sleeves!
Then the temperature started dropping, and the gray clouds rolled back in. I was glad I had started this hearty stew in my crock pot first thing in the morning. (I read the forecast and thought I better be prepared!)
By time evening rolled around, the family was glad to sit down to this hot and filling meal!
Hearty Crockpot Beef Stew Recipe
Ingredients:
For the Stew:
2 lb meat, cut for stew
1 onion, sliced
1 cup chopped carrots
1 cup chopped celery
1 cup chopped green pepper
salt & pepper, to taste
2 cups beef broth
2 cup water
For the Gravy:
4 TB corn starch
4 TB water
Recipe Directions:
Place all ingredients in a large slow cooker or Crock Pot. Set heat to low and cook for 8 hours.
Strain juice into sauce pan. I use a measuring cup to scoop off the broth.
Place sauce pan on stovetop burner and turn stove burner to high heat.
In a small bowl mix 4 TB cornstarch with 4 TB cold water.
Add the cornstarch mixture to the broth and bring to a bowl. Stir frequently while boiling for several minutes, until broth thickens into gravy.
Return the gravy to the Crock Pot and stir to blend the gravy with the meat and vegetables.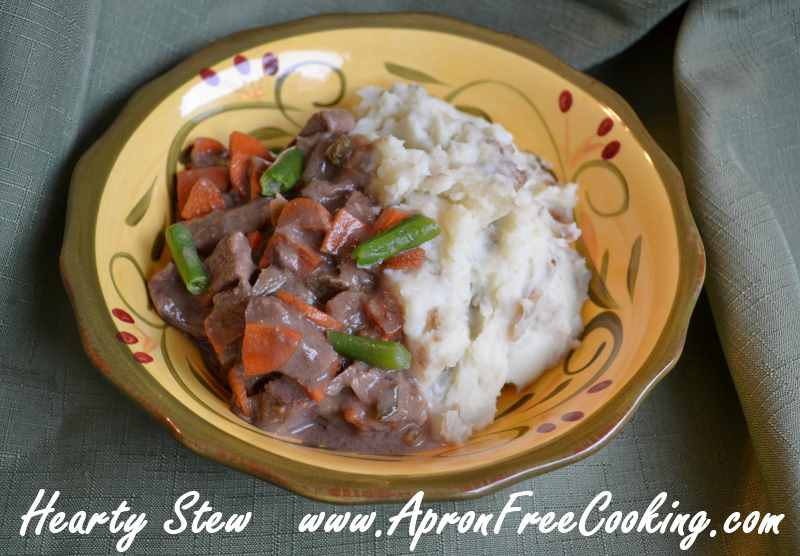 Approximate Nutritional Information:
Servings Per Recipe: 6, Total Per Serving: Calories: 559, Fat: 15g, Cholesterol: 112mg, Sodium: 536mg, Total Carbs: 42g, Protein: 59g.
Make It a Meal:
Serve over top or beside mashed potatoes or biscuits. Add green beans for extra vegetables and color.
Variations:
Replace beef tips with venison or pork bits. The low, slow cooking time renders all types of meat tender and juicy.
As you can see, I served this stew alongside home style mashed potatoes. Home style mashed potatoes are simple and my family loves them! I wash and chop about 5 medium potatoes into a pan of water. Once the water boils, I watch the pan so it doesn't over flow (trust me that's a mess you don't need!). I boil the potatoes for 5 minutes or until they are fork tender.
Then drain the potatoes and mix with 4 TB butter, 1 cup of milk and salt to taste. I use my electric mixer to get the potatoes nice and smooth. Add a bit more milk as necessary. Smooth is a relative term in this case, since the skins were left on the potatoes they'll add a bit of texture and color to the bowl.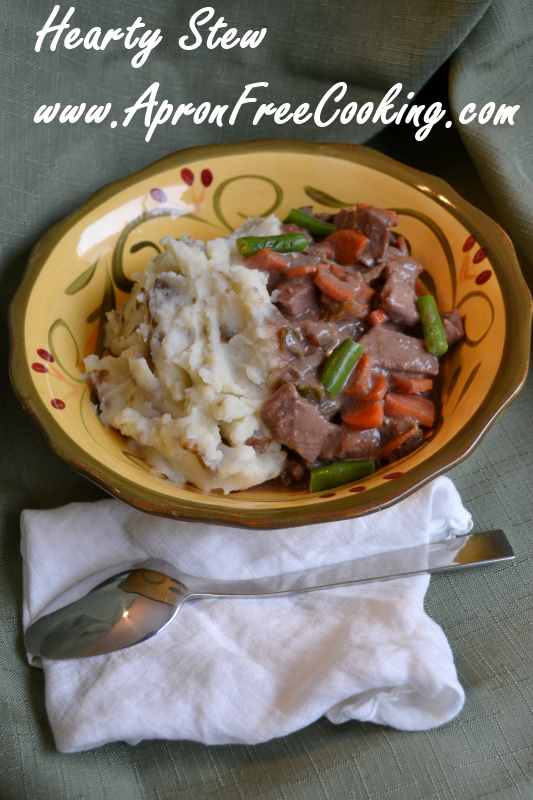 This recipe has two super great qualities. 1. It's low effort – due to the Crock Pot doing all the work. and 2. It's flexible – you can use any type of meat you prefer.
I've made this recipe using beef and venison. You could use pork, lamb, rabbit or any other type of meat you have in the freezer. Since the meat is cooked at a low temperature for a really long time (8 hours!) it becomes super tender and nearly falls apart when you pick it up with your fork!
This recipe was featured in my Freezer Meal Cookbook. Get your copy today, click here.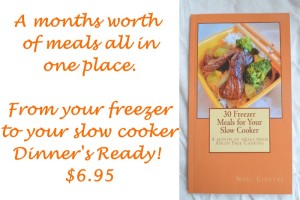 If you use a game meat, you'll be glad to know the wild flavor is cooked out of the meat. The acid in the onions and peppers help neutralize the wild taste as well as with the tenderizing. In fact, I've served venison this way to people who claim they can tell the difference in the meats, and they had no idea they weren't eating beef.
Mind you, I don't condone trickery when it comes to getting your family to eat certain foods, but I wholeheartedly subscribe to the masking theory! If nobody asks me what type of meat it is, I'm not telling. If they do ask, I can sometimes get away with answering "Freezer Meat".  (this works when you have several types of meat wrapped in white butcher paper in your freezer!) 
I used a bag of green and hot peppers that I had diced and frozen last summer for this recipe. Remember last summer? My neighbor had shared his garden bounty with me – and we had more peppers than we could eat at  the time. I diced up a lot of the peppers and portioned them into 1 or 2 cup amounts, placed those amounts in plastic baggies and froze them.
I've been using them all winter – in chili, in soup, and now in this stew. Gotta love the garden bounty that's stored in the freezer!! Since the bag I used for this stew had a few hot peppers in it, the stew had a bit of a zing! Nice touch on a snowy evening!
If you like this recipe, save it to your recipe box or share it with your friends using the buttons below!
What is your cold weather go-to food?