Make this portable, tasty shredded chicken hot pocket using left overs in a three step recipe. These hot pockets are perfect for snacking on during your favorite football game, or on the way to soccer practice.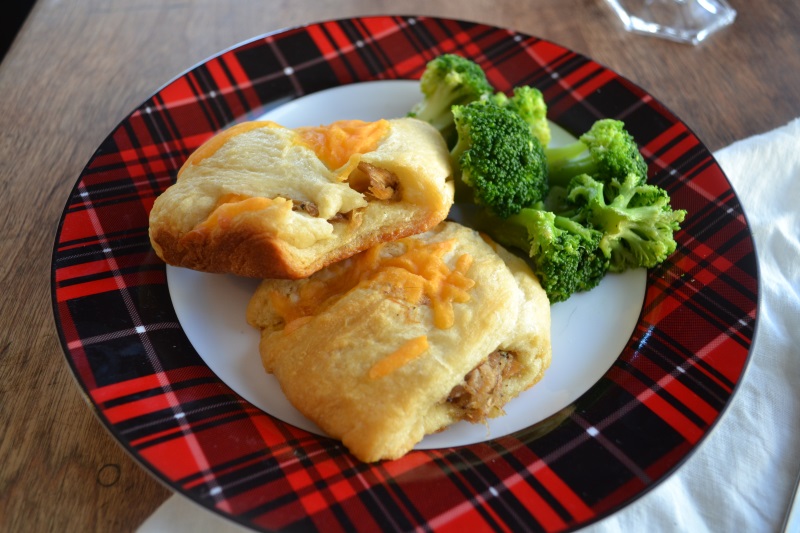 This recipe is so easy, you can have these snacks made in 20 minutes or so and be on your way with food in hand.
This is also a great recipe to make with kids. You only have to supervise if your children have the most basic cooking skills.
For younger children, you'll want to manage the oven and perhaps oversee the assembly of the pockets. However, you should be able to turn your tweens and teens loose in the kitchen to make this dish for supper.
I love this recipe for two very basic reasons:
It uses up leftovers, turning them into a new dish.
It capitalizes on ready to use, easy to find ingredients.
That's what I call #ConvenienceCooking !
Supper made easy with Shredded Chicken Hot Pockets #ConvenienceCooking
Click To Tweet
I used packaged crescent roll dough. If you've got a fabulous, made from scratch recipe for crescent rolls, and you're not pressed for time – then I highly recommend you use that dough!!
If you're pressed for time and have a different form of refrigerated biscuit dough on hand, you certainly can use what you have. Don't make a special run to the grocery store just to purchase crescent rolls.
I usually plan ahead and figure that the second or third time using my crock pot full of shredded chicken will be in this recipe. I purchase the crescent rolls in the same trip as the shredded chicken ingredients.
Some families love leftovers, and will eat the same pot of food, in the same method for an entire week. My husband has been known to do that with spaghetti.
Other families need leftovers to look like something new in order to eat them up.  That's where this recipe comes in handy!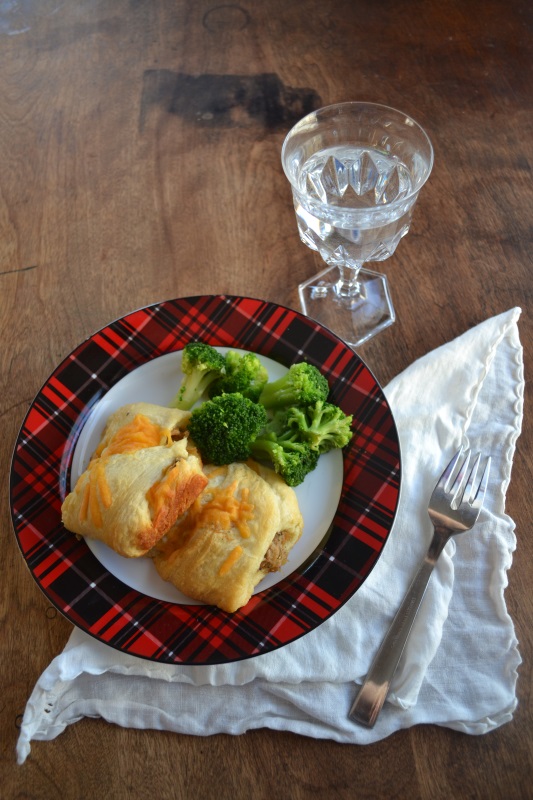 Shredded Chicken Hot Pocket Recipe
Ingredients:
Recipe Directions:
Preheat oven to 350 degrees Fahrenheit.
Lightly grease 9 x 13 inch baking dish.
Unroll and separate the crescent rolls into individual triangles.
Spread about 1/2 cup shredded chicken in the middle of each crescent roll.
Top with a pinch of the cheddar cheese and fold corners for triangle in, to enclose the chicken inside the roll.
Sprinkle a bit more cheese on top of each roll.
Bake at 350 for 20 minutes.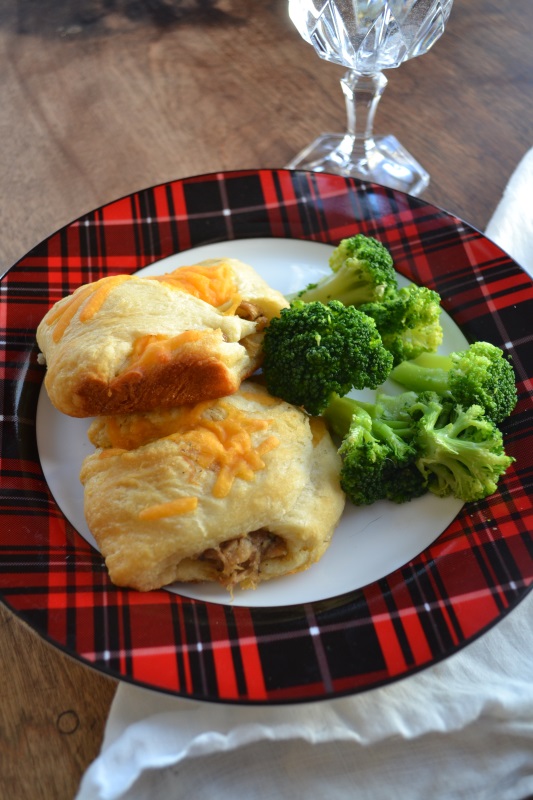 Approximate Nutritional Information:
Servings Per Recipe: 8 servings. Amount Per Serving: Calories: 285, Total Fat: 9g, Cholesterol: 89mg, Sodium: 380mg, Total Carbs: 19g, Protein: 9g
Make it a Meal:
Serve with a vegetable or bowl of soup to make a light meal. The Chicken Fajita or Broccoli Cheese soups are good with the hot pockets.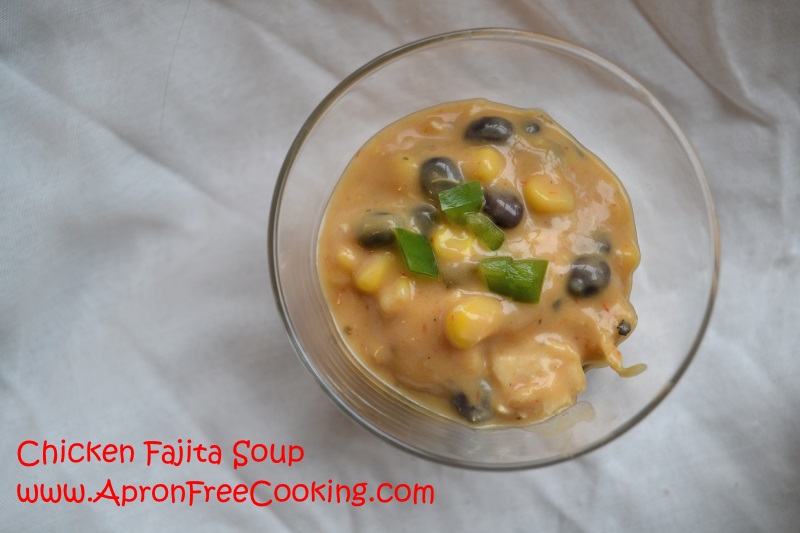 Variations:
Replace the shredded chicken with pulled pork, barbecued beef or diced ham.
Don't forget to share this recipe with your friends! Be the first to Pin It!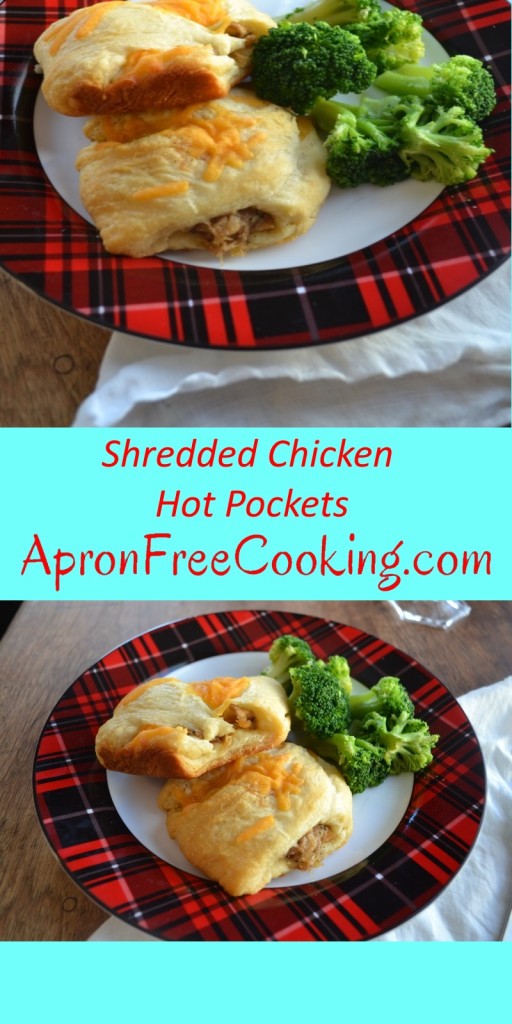 Follow ApronFreeCooking:
Twitter – @ApronFreeCook
This post may contain affiliate links . There are no additional costs passed on to you if you click on the links in this post. Any money earned from commission helps me cover the cost of maintaining this website.
This recipe shared on: