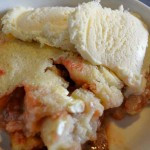 I've been spending a bit of time on Pinterest lately. Ok, honestly?  I've been spending a lot of time on there. It's so easy to get drawn into the beautiful pictures, amazing photography, incredible recipes and cool as heck craft projects.
I found this recipe  yesterday and thought "Wow! I have to try this!"  So I pinned to my Recipes to Try board. Then I asked my husband if he thought strawberry cream cheese cobbler sounded good. His reply was an enthusiastic "Yes!".
I checked the recipe and compared the ingredients to my cupboards. Don't you know … I had everything but fresh strawberries. Then I remembered I had some frozen strawberries in the freezer. I had intended to use them for smoothies … but since I'm not making many cold, frozen smoothies in Ohio in January, they might just serve my purposes.
The thing I like about cobblers, is that they are warm, gooey and sweet. They remind me of winter days when I was a girl and my mom would pull some of last summer's fruit out of the freezer and make up a cobbler.
So, using the original site's recipe, I mixed up the cobbler. The name of the site is Quick and Easy Recipes, and I'll tell you, this recipe meets that description!
Strawberry Cream Cheese Cobbler Recipe
•1 stick (1/2 cup) butter
•1 egg, lightly beaten
•1 cup milk
•1 cup all-purpose flour
•1 cup sugar
•2 teaspoons baking powder
•1/2 teaspoon salt
• 2 quarts whole strawberries, capped and washed
• 4 ounces neufchatel cheese, cut in small pieces
• Plain Greek yogurt or vanilla ice cream for serving, optional
Preheat oven to 350 degrees. Melt butter and pour into a 9-by-13-inch glass baking dish. In a small bowl, mix together the egg, milk, flour, sugar, baking powder and salt. Pour directly over the butter in the baking dish, but do not stir.
Add the strawberries, arranging in a single layer as much as possible. Sprinkle cream cheese pieces over strawberries. Place in preheated oven and bake for 45 minutes, or until top is golden brown and edges are bubbling. (Crust rises up and around the fruit, but fruit will still peek out of top.)
Serve hot out of the oven with choice of topping, if desired.
Approximate values per serving (just cobbler): 290 calories, 13.2 g fat (8 g saturated), 51 mg cholesterol, 4.7 g protein, 40 g carbohydrates, 3 g dietary fiber, 245 mg sodium.
 Of course, we dug right in while the cobbler was hot. I added vanilla ice cream to mine, because I have to remain true to my heritage as an ice cream loving girl! Both of my grandpas and my dad all like to have a bowl of ice cream as a nightly bed time treat. In fact, one of my grandpas used to just have ice cream for supper on Sunday nights!
I also have to admit, there wasn't much left in the pan this morning when I went to have cobbler for breakfast. Apparently, my husband had a couple more servings of this treat yesterday afternoon / evening. That tells me this is a keeper recipe… it's husband taste tested and approved!
In the future, I'll make this recipe with the suggested fresh strawberries. And maybe I'll try it with some blue berries too.
Don't forget to follow ApronFreeCooking or get email updates! Click on the buttons in the upper right margin  to follow or sign up!