Start your fall baking off with this delicious and simple Harvest Spiced Baked Apples recipe. One of my grandmother's Thanksgiving traditions, this recipe is perfect all season long!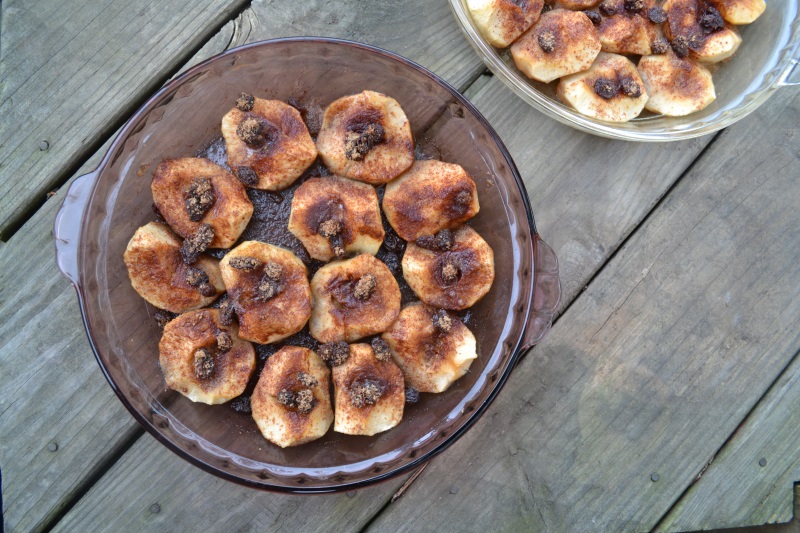 A sweet blend of spices and sugar, with some raisins topping the apple halves, there really isn't much more perfect. This recipe has all the delicious flavors of mom's apple pie, but is made even easier by skipping the crust.
I love my mom's apple pie. There's no better pie on earth than hers. If you don't believe me, then you've never had my mom's apple pie. I will admit, my sister makes an awfully close second place.  I've never had much luck with making a good crust. It's a challenge to get the light and flaky dough they produce. I've pretty much given up on pie crust.
Harvest spiced baked apples, however, are a dish I've mastered. This recipe is one my grandma used to make for family gatherings at Thanksgiving. I remember wanting to pile my plate full with her baked apples and skipping other things like green beans and turkey.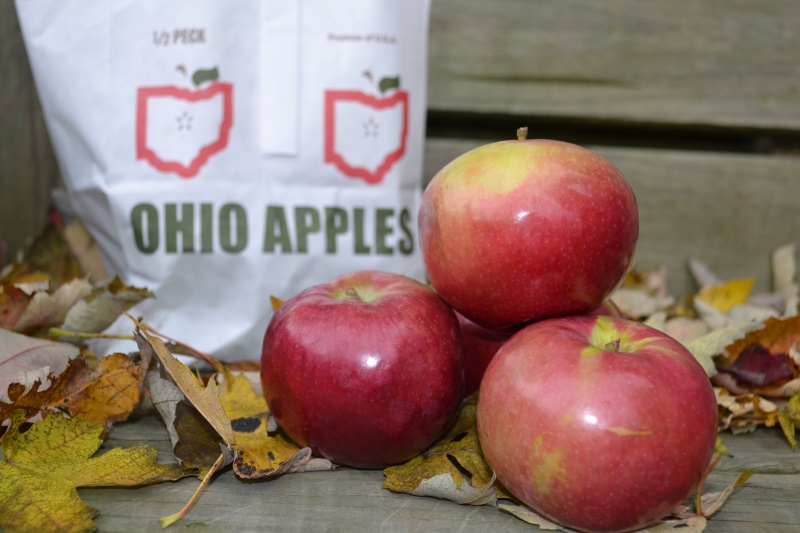 Fall harvest season in Ohio includes lots of produce and grain crops. Farmers are in the fields every chance they can get combining soybeans and wheat. Usually late fall begins the corn picking, but this year I've seen several fields already being harvested. Must have been a good corn year!
The farmer's markets have an abundance of gourds, squash and apples. I love these fall selections. My friend has an apple orchard and she loads more apples into the farmer's markets than you can imagine. It's an impressive sight, her truck full of apples.
Harvest Spiced Baked Apples takes advantage of the bounty of fall. Apples!! The original fall favorite!
Click To Tweet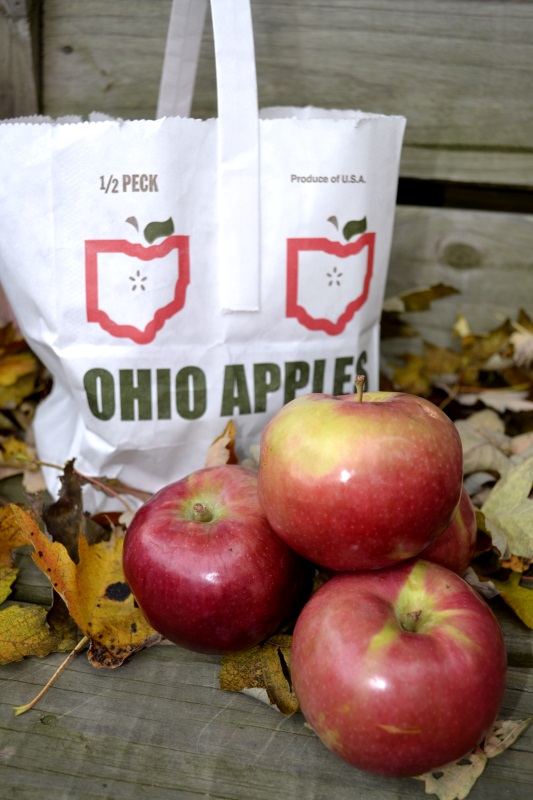 At the farmer's market, apples are not sold by the pound, but rather by the bushel, peck and half peck. I imagine that in the old days, it was difficult to obtain accurate weights because scales were tricky to calibrate and often rigged. Bushel, peck and half peck were basket sizes that could easily be duplicated and remained consistent.
Regardless of the measurement used, freshly picked and locally grown apples are at the top of my list when I'm shopping at farmers markets.
Make It a Meal:
Round out your fall seasonal cooking with Butternut Squash and Oven Roasted Onions.
Pin It:
If you love this recipe and want to save it for later, pin it to your Pinterest account.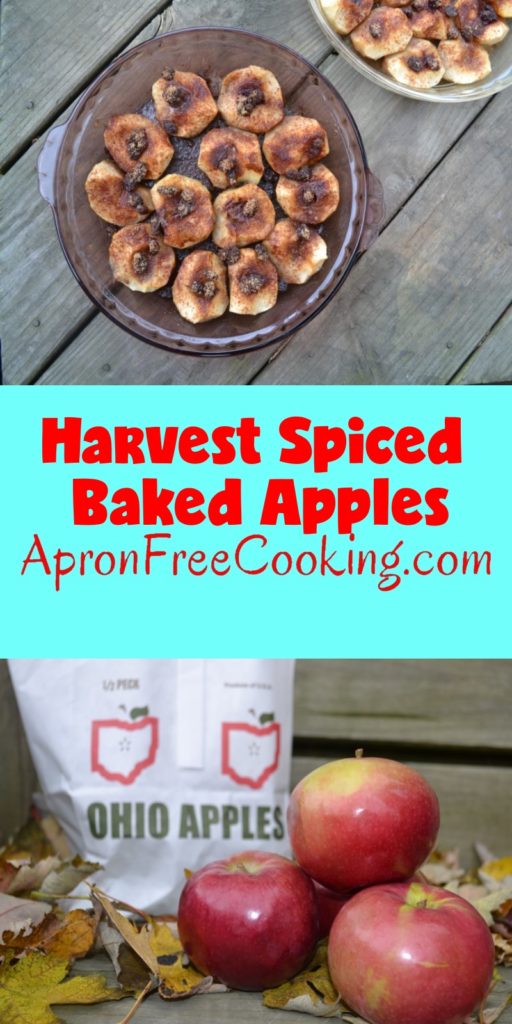 Picture this dish on your holiday buffet. Wouldn't your family love some Harvest Spiced Baked Apples to round out their meal? As easy as this recipe is, even if you're a beginner cook, you can contribute a delicious and popular item to the menu. If you're planning to take this dish to the family dinner, you may want to consider doubling the recipe.
You can use any type of apple, however, apples that are best for baking usually hold their shape. I like Granny Smith, Johnathon, and Red Gold. Johnathons are named after Johnny Appleseed. He was a frontiersman who traveled through New York, Pennsylvania, Ohio and into the midwest planting apple trees as he traveled.
Harvest Spiced Baked Apples Recipe
Ingredients:
6 med Apples
1 T Brown Sugar
1 tsp Cinnamon
1/2 tsp Cloves
1/4 c Raisins
Recipe Directions:
Preheat oven to 350 degrees Fahrenheit.
Peel and core apples, leaving in halves.
Mix brown sugar, spices and raisins.
Coat bottom of a pie pan or 8×8 baking dish with cooking oil or butter.
Place apple halves in pan, sprinkle sugar mixture over apples.
Bake at 350 degrees for 30 minutes or until fork tender.
Approximate Nutritional Information:
Servings Per Recipe: 6, Amount Per Serving: Calories: 141, Fat: 0.5g, Cholesterol: 0g, Sodium: 4mg, Carbs: 37.5g, Protein: 0.8g
(please remember these are approximate and will vary slightly based on your ingredient selections.)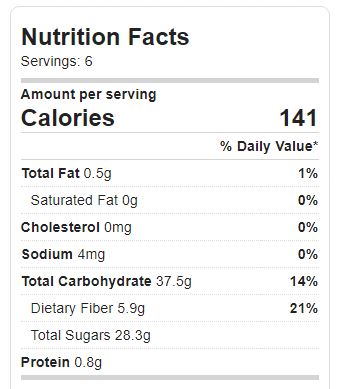 Shop Apron Free Cooking on Etsy
Follow ApronFreeCooking:
Twitter – @ApronFreeCook
This post may contain affiliate links . There are no additional costs passed on to you if you click on the links in this post. Any money earned from commission helps me cover the cost of maintaining this website.