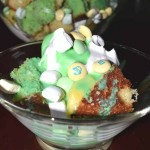 Just in time for St Patrick's Day.
This dessert is light, creamy, and sweet.
It's also simple to prepare and elegant to serve.
And it's green and gold, perfect for St Patrick's Day supper.
Ingredients:
1 box (12 oz)  yellow cake mix
1 box (4 oz) French vanilla instant pudding mix
Green food coloring
1 container (10 oz) whipped topping
1 cup candy coating chocolate candies
1 cup party mints
Directions:
Preheat oven and prepare cake mix according to package directions. Divide cake batter in half and pour into two bowls. Add 8 drops of green food coloring to one bowl and mix thoroughly. Pour cake batter into two 8 inch round cake pans. Bake according to package.
While cakes are baking, prepare French vanilla pudding according to package instructions. Scoop 1 cup of pudding mixture into small bowl and add 12 drops of green food coloring. Mix well. Refrigerate both bowls of pudding.
When cakes finish baking, allow to cool completely. Cut into inch pieces.
Using a pretty serving bowl, layer cake pieces, add a layer of yellow pudding, and top with whipped cream. Repeat this process until you have used up the cake pieces. Finish with a layer of whipped cream on top. Drizzle the green pudding over the whipped topping and sprinkle with the candies and mints.
Make It a Meal: Serve with coffee for dessert after your favorite meal.
Variations: replace dinner mints with chopped chocolate mint patty candies. Use more or less green food coloring to achieve desired coloring of cake and pudding.
Approximate Nutritional Value: Servings Per Recipe: 12, Amount Per Serving: Calories: 458, Total Fat: 18g, Cholesterol: 40mg, Sodium: 273mg, Total Carbs: 60g, Protein: 5g
Storage: Keeps up to one week in the refrigerator and four to six weeks in the freezer. Thaw before reheating.
How are you planning to celebrate St Patrick's Day?
Download a PDF copy of this recipe to your computer by clicking here.
PS: Don't forget to share this recipe if you like it using the buttons below and follow ApronFreeCooking using the buttons in the upper right hand side of this page! 
Pin It