A spin on Grandma's green bean casserole. Using frozen green beans gives this dish a bright green color.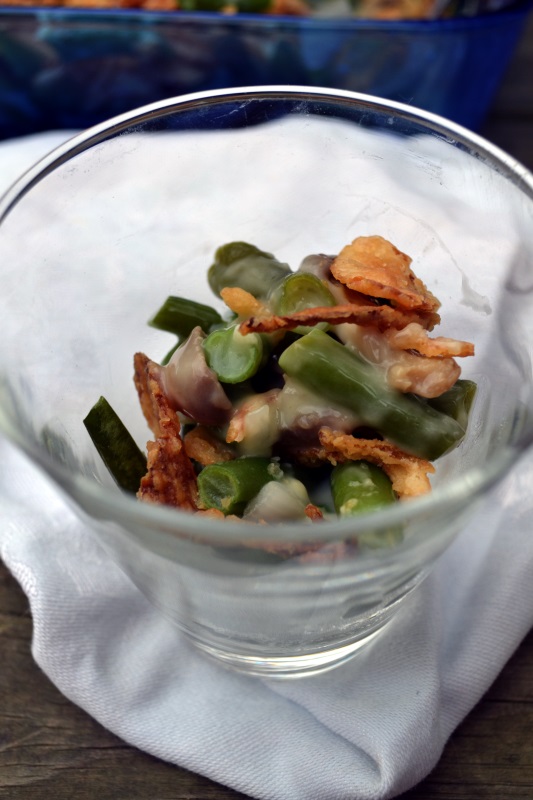 What side dishes will be on your Thanksgiving table? Will they be traditional recipes or new experiments?
We usually end up with some of both. Thanksgiving Dinner has many tried and true traditions in my family. We always have turkey and stuffing. We always have rolls and pie. Usually we have corn pudding or green bean casserole in honor of my grandmothers.
Then there was the time we had sweet potato casserole. Or seven layer salad. Or cranberry relish with oranges. I think this year my daughter is trying a new cheese bites recipe. Some of the experiments were successful; others, not so much.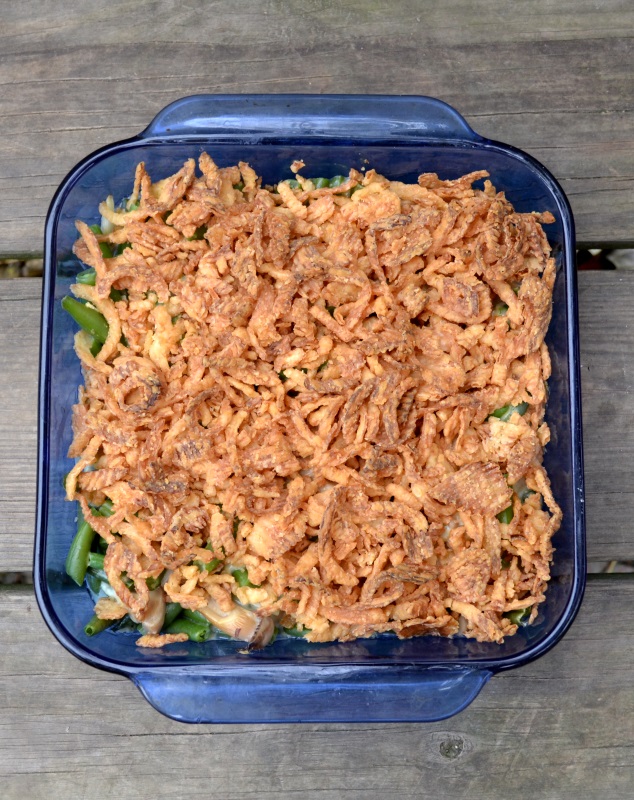 My grandma on my mom's side was a leader in convenience cooking. She used all the "new fangled" canned, boxed and easy to use packaged foods that became available after World War II. Green Bean Casserole was one of the dishes she served regularly. Grandma used canned green beans and mushrooms. Her recipe was easy and quick.
Slightly updated grandma's recipe for Green Bean Casserole
Click To Tweet
Green Bean Casserole Recipe
Ingredients:
2 bags French Style Green Beans frozen
2 large Cans Mushrooms slices, bits, caps
2 cans condensed Cream of Mushroom Soup
1 large French Fried Onions
Recipe Directions:
Preheat oven to 350 degrees Fahrenheit.
Mix green beans, mushrooms and soup in 9 x 13 casserole dish.
Top with crispy onions.
Bake at 350 degrees for 30 minutes or until bubbly and browned.
Variations:
Use broccoli or cauliflower instead of green beans. Add in some diced onions or Cajun spice for some kicked up green beans. Sprinkle a layer of cheddar cheese under the crispy onions.
Approximate Nutritional Information:
Servings Per Recipe: 12. Amount Per Serving:  Calories: 164, Total Fat: 8g, Cholesterol: 2mg, Sodium: 479mg, Total Carbs: 21g, Protein: 3g.
Make it a Meal:
Serve this beside your turkey and stuffing. Also goes well with ham or chicken dinners. We usually have my Grandma Chase's Corn Pudding at the same meal.
My version is nearly as quick, but the frozen green beans appeal to me more than canned ones. Maybe it's the color, there's little taste difference!
I know there will be very little in the way of leftovers when I take this dish to family gatherings. Most all of the folks at those gatherings will take a helping or two. Even the kids like this recipe. I think that's because the green beans are easily recognizable.
Kids always tickle me with their food preferences. They willingly eat anything that looks like candy or a food that is a "known quantity".  They are suspicious of vegetables and morsels that seem to be disguised. Then again, I've known a few adults who hold this practice also. If they can't decide a food is pizza, cheeseburger or French fries, they skip it.
I've always been willing to try new foods. I've only found a few that were not worth visiting again. Green Bean Casserole is one of the dishes I fix every now and then. It's warm, comforting and yummy.
Do you like this recipe? Share it with your friends!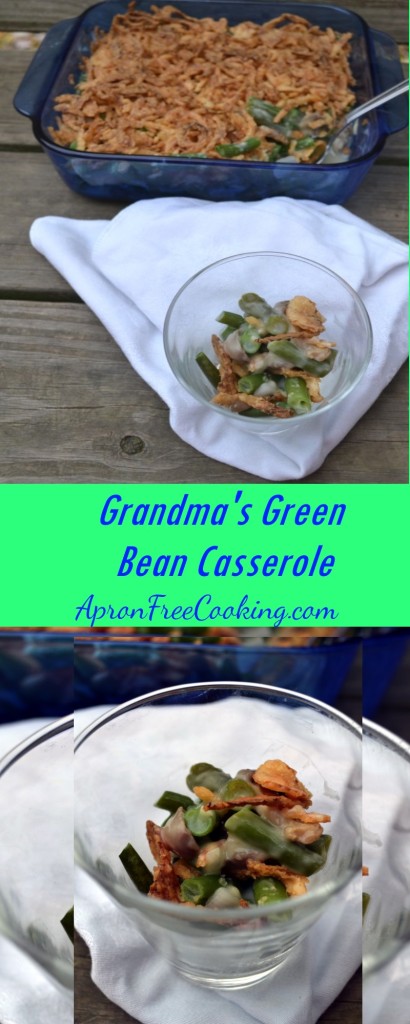 Follow ApronFreeCooking:
Twitter – @ApronFreeCook
This post may contain affiliate links . There are no additional costs passed on to you if you click on the links in this post. Any money earned from commission helps me cover the cost of maintaining this website.