Spinach Artichoke Dip Individual Appetizers are the perfect solution to making sure everybody has a chance at the popular appetizer dip. Think about how many times you've been to a party and eyed up that wonderful bowl of spinach artichoke dip. Then noticed that somebody was either hogging it all, or worse, double dipping.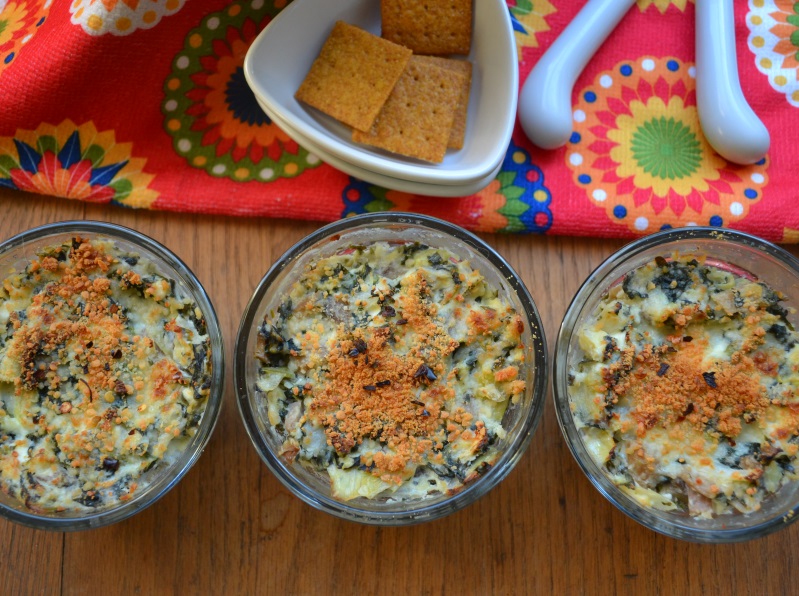 This recipe for Spinach Artichoke Dip Individual Appetizers allows you to take your portion and retreat to your own corner, not having to share with anybody. 
I've raised two children, so am fully aware that double dipping occurs. I mean, kids are king at that game! However, it bothers me when I'm in a public event and observe this happen at the hands of an adult. I have friends who would leave rather than remain in such an environment. Their tolerance for germs is extremely low.
I also know some people who will stand next to the buffet table and continue to help themselves to portions of an appetizer until the plate is empty. The rest of the guests have to detour that section of the buffet table and unfortunately leave with their plates devoid of the desired appetizer.
It struck me that we could avoid all of the trouble by serving individual sized portions of appetizers. Genius, isn't it? Spinach Artichoke Dip Individual Appetizers are the answer.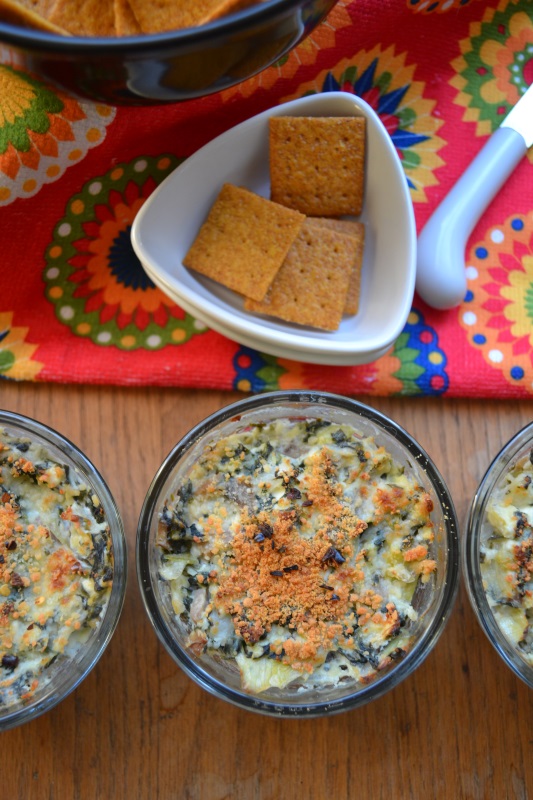 I used one cup custard bowls that are oven safe to bake my spinach artichoke individual appetizers. You can usually find these in the kitchen department of any home goods store. I have some I ordered from Pampered Chef, several I found at the thrift store and a few I picked up at the big box stores. I like the clear glass bowls as they show off the dip.
You could also use one cup cake pans, oven safe soup bowls or coffee mugs. If you don't have enough small containers that are oven safe, you can bake the dip in two one-quart casserole dishes, then serve it in single serving containers that are simply heat resistant.
Make It a Meal:
Spread this dip on your toasted English Muffin for a delicious breakfast. Add a slice of ham over a layer of cooled dip spread on a tortilla and roll it up, you've got lunch!
Pin It:
If you love this recipe for Spinach Artichoke Dip Individual Appetizers and want to save it for later, pin it to your Pinterest account.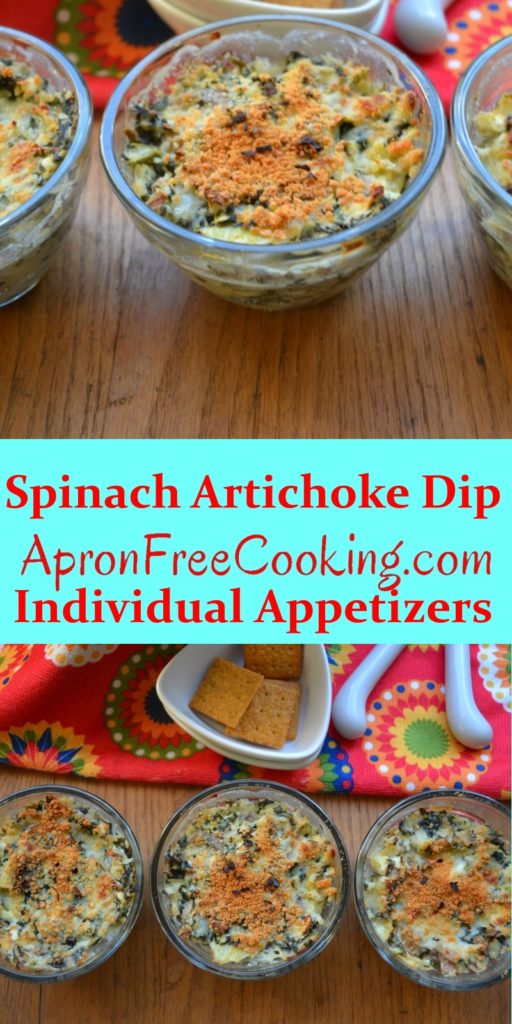 Spinach Artichoke Dip Individual Appetizers Recipe
Ingredients:
Spinach, Artichokes, Onions, Three kinds of Cheese and Sour Cream
Recipe Directions:
Chop, mix, bake, eat!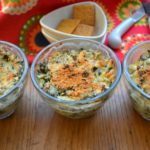 Spinach Artichoke Individual Appetizers
Keep everybody happy with their own bowl! Spinach Artichoke Individual Appetizers are the perfect party food.
Ingredients
10

ounce

Spinach

frozen, thawed

14

ounce

Artichoke Hearts

4

ounce

Mushrooms

1

cup

Onion

1/2

cup

Sour Cream

1

cup

Mozzarella Cheese

8

ounce

Cream Cheese

1/2

cup

Parmesan Cheese
Instructions
Preheat oven to 350 degrees Fahrenheit.

Thaw frozen spinach and squeeze out water.

Chop artichoke hearts and mushrooms.

Combine all ingredients except Parmesan cheese.

Using a wooden spoon, stir until well mixed. Microwave for 30 seconds to help blend ingredients.

Divide dip mixture into one cup oven safe bowls.

Sprinkle Parmesan cheese over each bowl.

Bake at 350 degrees for 30 minutes.

Broil on High for 2 minutes.
Approximate Nutritional Information:
Servings Per Recipe: 8, Amount Per Serving: Calories: 222, Fat: 17g, Cholesterol: 49g, Sodium: 319mg, Carbs: 10g, Protein: 11g
(please remember these are approximate and will vary slightly based on your ingredient selections.)
Shop Apron Free Cooking on Etsy
Follow ApronFreeCooking:
Twitter – @ApronFreeCook
This post may contain affiliate links . There are no additional costs passed on to you if you click on the links in this post. Any money earned from commission helps me cover the cost of maintaining this website.