The healing power of carrot and turmeric soup can be found in the simple, fresh ingredients, the warmth and the deep flavor of the soup.
Slightly sweet, slightly spicy, this soup will make you feel better in a flash. If you're not feeling sick, you'll love it just the same.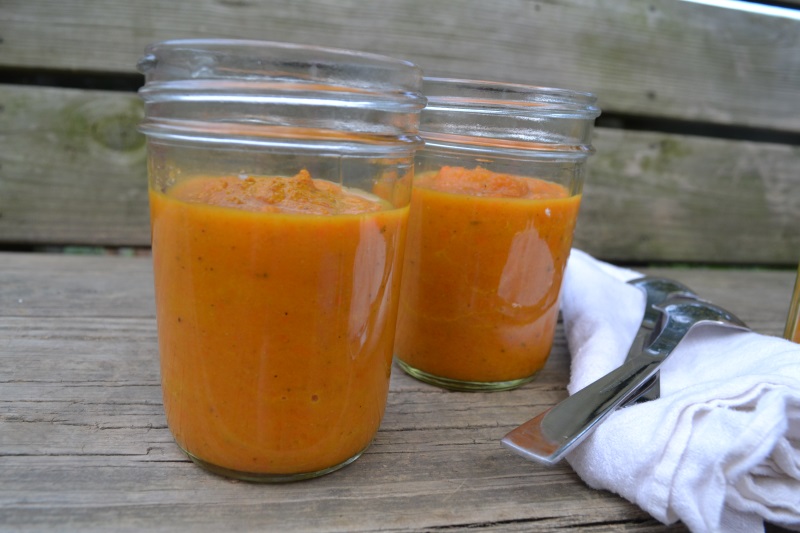 This tasty soup recipe is so simple, it practically makes itself. Which is a really good thing if you're feeling poorly and want to rest.
When I'm not feeling well, there's nothing that tastes better than a warm bowl or cup of soup. Soup is easy to eat, it warms you from the inside and reminds me of sick days when I was a girl. Soup just makes me feel better.
When that soup is made from healthy ingredients and contains powerful spices, that's going to make me feel even better! The healing in carrot and turmeric soup comes from the vitamin packed carrots and the power of turmeric.
Turmeric's healing properties include:
Anticoagulants
Anti-depressants
Anti-inflammatories
Antiseptic
Arthritis management
Cancer prevention
Diabetes management
Gastrointestinal treatments
Cholesterol regulation
Pain killing effects
Liver detox activities
Turmeric is credited with a host of other health inducing / improving qualities. Go do a search if you're interested in reading more about this super spice.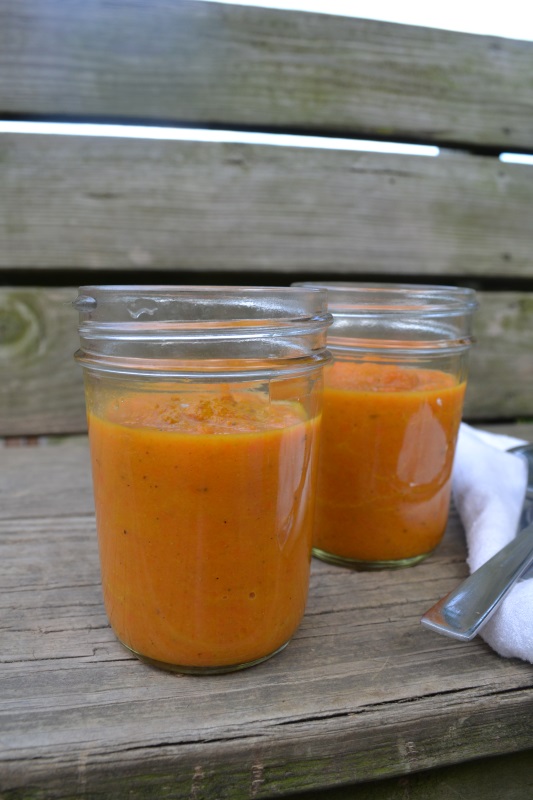 The apple juice blends nicely with the natural sweetness of the carrots and onions. A cup of carrot and turmeric soup has a pleasing light sweet flavor that doesn't overwhelm. If you want to add a bit more spiciness, sprinkle some extra pepper on top or add some red pepper flakes while the carrots and onions are cooking.
Of course, if you really like it hot, you can add a dash of sriracha or other hot sauce. That'd be a sure way to clear your sinuses, if congestion is a symptom you're fighting.
Get the healing power of carrots & turmeric in this simple homemade soup.
Click To Tweet
Make It a Meal:
For an upset tummy, a bit of soup with crackers is all you need. If you're feeling up for a little bit more, add a grilled cheese sandwich on the side. There's healing power in the tradition of soup and sandwich!
Looking to have this soup as a first course to a heavier meal, that's a great idea. Add this soup alongside a small salad for the hot and cold first courses. Follow it up with roast beef or pork chops.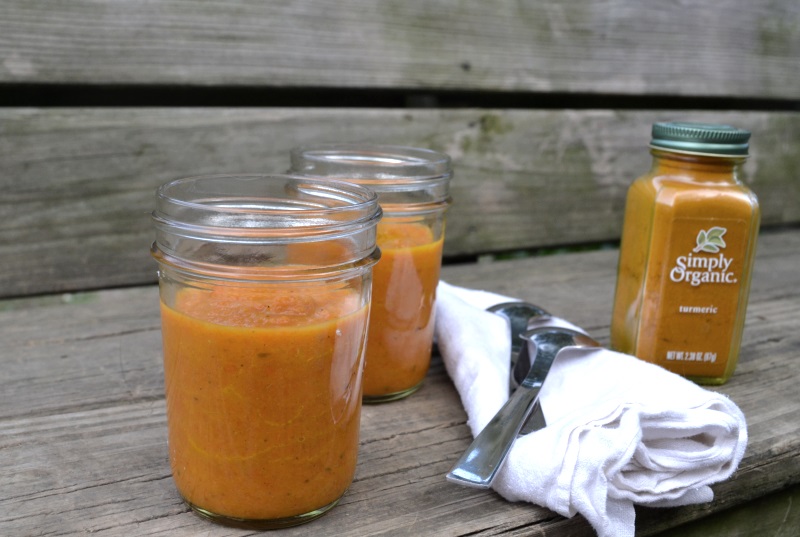 If you like chilled soups, this recipe works as well chilled as warmed. Prepare according to the recipe directions, then allow to cool to room temperature before placing in the refrigerator. Serve cold with a dab of sour cream to garnish.
Pin It!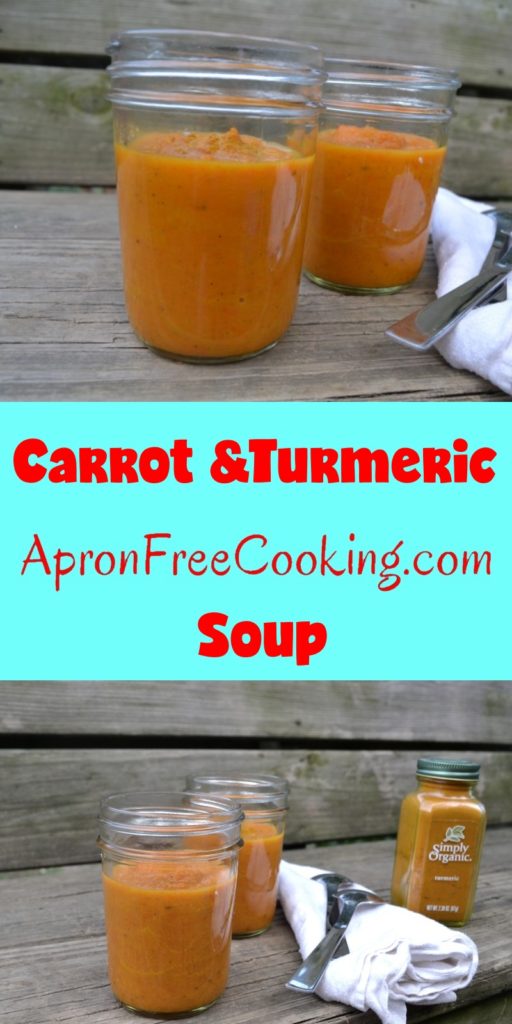 The recipe directions call for the carrots and onions to "sweat". The definition of sweating in cooking is the gentle heating of vegetables in a little oil or butter, with frequent stirring and turning to ensure that any emitted liquid will evaporate. Sweating vegetables usually results in tender, sometimes translucent, pieces.
Carrot and Turmeric Soup Recipe
Ingredients:
3 c Carrots
1 lg Onion
1 TB Butter
1 c Apple Juice
2 c Coconut Milk
2 tsp Turmeric
Salt & Pepper to taste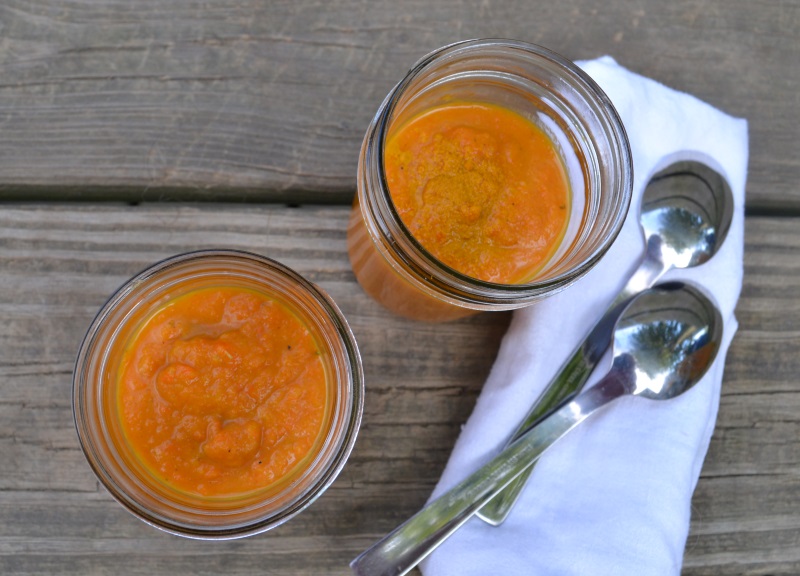 Recipe Directions:
Chop the carrots and dice the onions.
Melt the butter in a large pan then cook the carrots and onions until they sweat.
Add remaining ingredients and simmer for 20-30 minutes.
When carrots are cooked through, transfer in small batches to blender and process until smooth.
Approximate Nutritional Information:
Servings Per Recipe: 4, Amount Per Serving: Calories: 335, Fat: 27g, Cholesterol: 3g, Sodium: 88mg, Carbs: 23g, Protein: 4g

Because this recipe calls for coconut milk, it is nearly dairy free. Use olive oil instead of butter to make this completely dairy free.
Follow ApronFreeCooking:
Twitter – @ApronFreeCook
This post may contain affiliate links . There are no additional costs passed on to you if you click on the links in this post. Any money earned from commission helps me cover the cost of maintaining this website.