Delicious pasta stuffed peppers are a hit with the family. It's easy to see why, when the main ingredients are soft cheese covered pasta, tomato sauce and pepperoni tucked inside a garden fresh green pepper.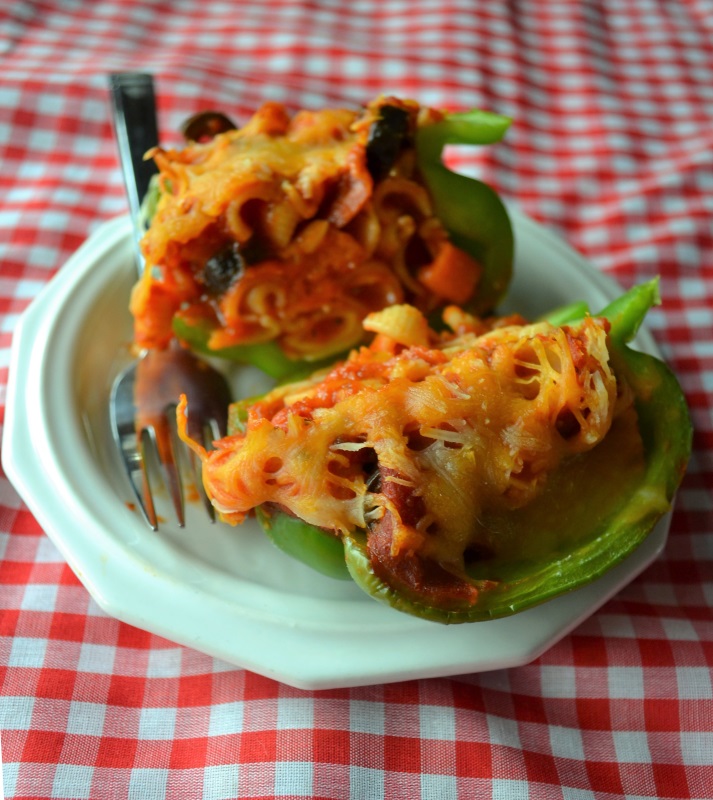 This recipe is one of those almost too simple to be true for the big bang flavor and fun presentation. If you can master the most basic cutting and boiling water skills, you can make these pasta stuffed peppers.
Stuffed peppers have been a tried and true family meal. Usually my family stuffs the peppers with a beef, rice, tomato, and sauce combination. Trust me, that's good stuffing! Another family favorite meal involves a basic meatloaf recipe stuffed into the peppers. That's also a dish that disappears.
Recently we had an abundance of green peppers in the house – due to a great sale at the store and my low impulse purchase decision making skills that day – and I needed a way to fix a lot of peppers in short order.
I though we would eat a bunch of slices raw for snacks. That wasn't happening fast enough. Back to the drawing board I went, looking for a way to use a pile of peppers in a hurry. My husband (always helpful) tossed out the idea of stuffed peppers. But when I looked in the cupboards, I didn't have the traditional stuffed pepper ingredients.
Compromise!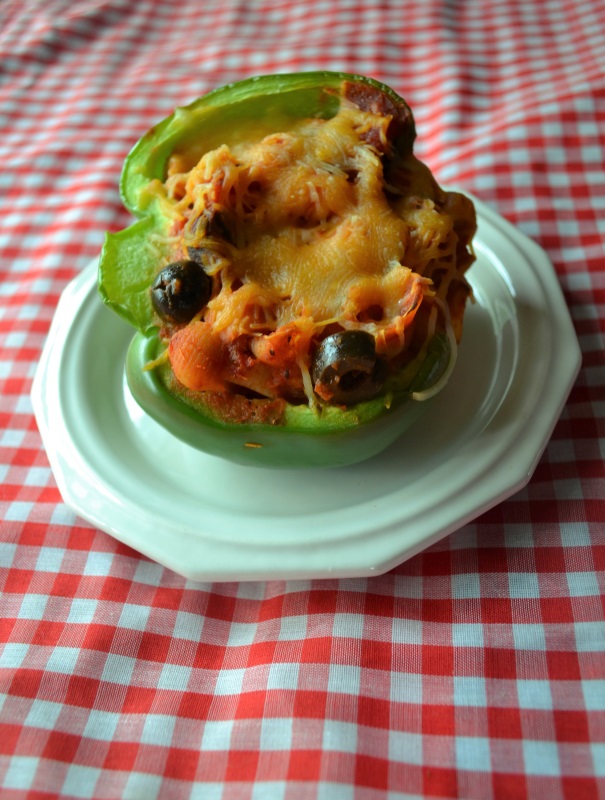 Improvise! I did have on hand the makings for some pasta dishes and in a flash of brilliance decided to combine the traditional pasta dish with the stuffed pepper recipe. Pasta Stuffed Peppers!
The resulting dinner was devoured in short order. I'd say the new recipe was a success. Pasta and sauce and cheese and pepperoni and olives and peppers – that almost sounds like my favorite pizza!
The peppers I had were large. I mean, really large. Bigger than my fist kind of large. So each half pepper stuffed with pasta made a good sized meal.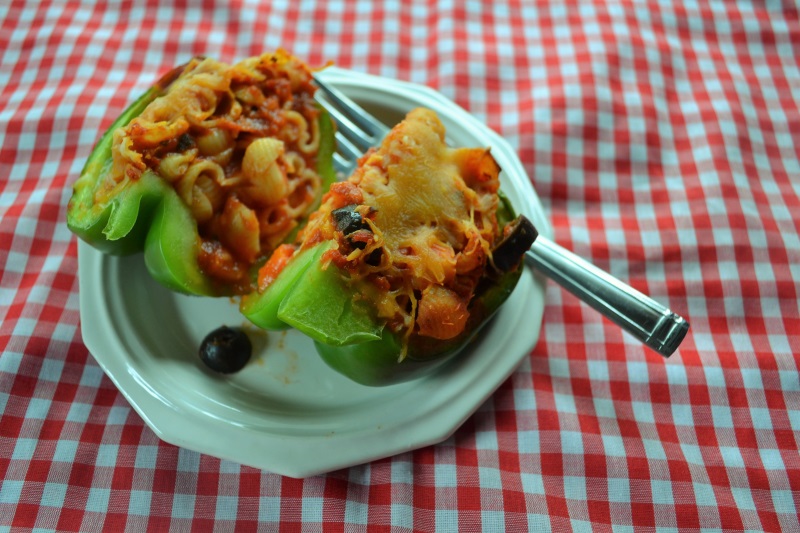 Filling, delicious pasta stuffed peppers will be your new family favorite!
Click To Tweet
Variations:
You could substitute red bell peppers for the green ones I used. If you want to chop up an onion to add to the stuffing mixture, that'd taste fine. Sprinkle with bread crumbs if you're avoiding dairy products.
I used small shell pasta, but you could use macaroni, twists, or any other shape you have on hand. In fact, in a pinch you could replace the pasta with rice.
If you're watching your sodium intake, use a low sodium pepperoni and cut the olives in half or eliminate them all together. That's where the biggest hit on the sodium count comes from.
Pin It!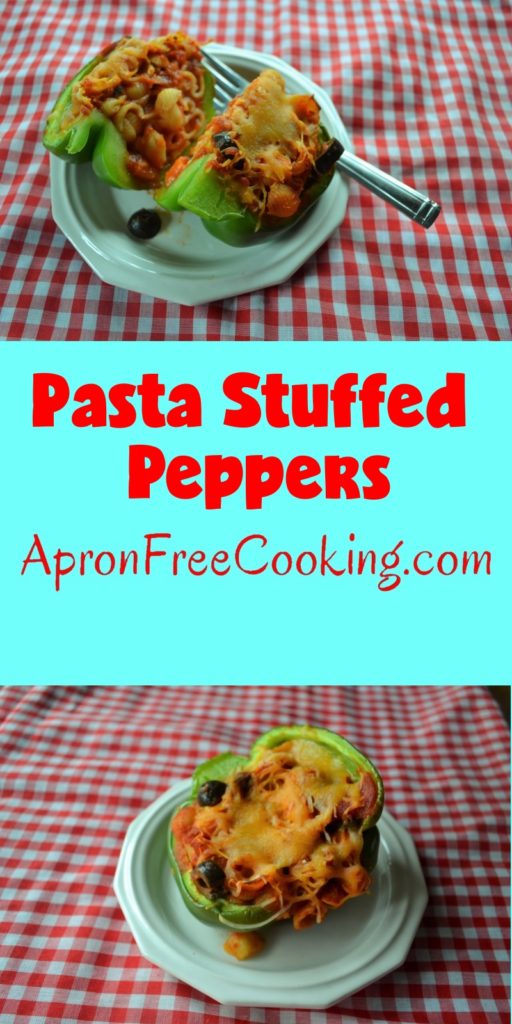 Pasta Stuffed Pepper Recipe
Ingredients:
3 lg Green Peppers
2 c Shell Pasta
1 c Black Olives
1 c Green Olives
1/2 c Pepperoni Slices
2 c Pasta Sauce
1 c shredded Mozzarella Cheddar Cheese
Recipe Directions:
Preheat oven to 350 degrees Fahrenheit.
Slice peppers in half lengthwise and core. Dispose of cores and set peppers aside.
Prepare pasta shells according to package directions.
Drain pasta and mix in olives, pepperoni and sauce.
Arrange pepper halves in 9×9 baking dish with cut side up to form a bowl.
Fill each bowl with pasta mixture. Top with cheese.
Bake at 350 degrees for 30-40 minutes or until peppers are fork tender.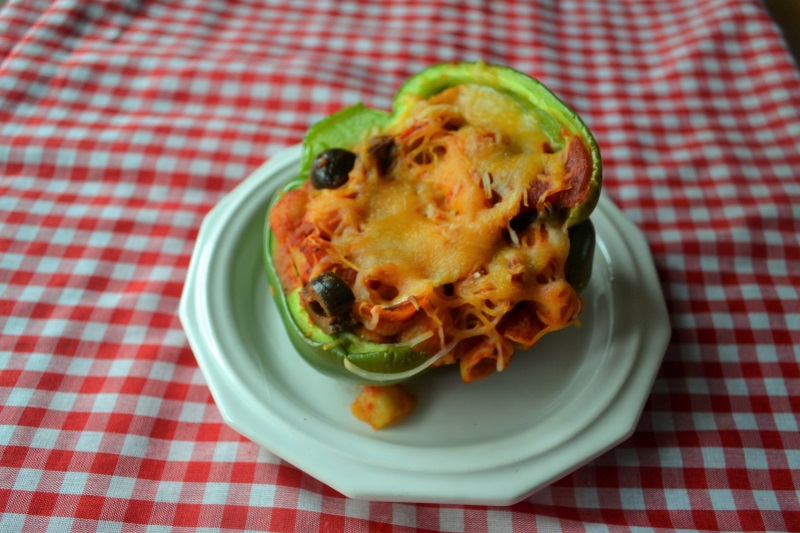 Approximate Nutritional Information:
Servings Per Recipe: 6, Amount Per Serving: Calories: 377, Fat: 26g, Cholesterol: 41g, Sodium: 1844mg, Carbs: 25g, Protein: 12g
Make It a Meal:
Serve with a side salad and garlic bread for an Italian dinner. One pepper serving with a cup of soup makes a good lunch.
Leftovers keep in the refrigerator for up to a week. If you are preparing some for the freezer, wrap unbaked cups individually in wax paper and store in zip top plastic bags. These cups will keep in the freezer for several months. When you're ready to eat, simply thaw overnight in the fridge and bake according to recipe directions.
Follow ApronFreeCooking:
Twitter – @ApronFreeCook
This post may contain affiliate links . There are no additional costs passed on to you if you click on the links in this post. Any money earned from commission helps me cover the cost of maintaining this website.