Hearty, down home style sausage chicken gumbo is easy to make and full of flavor. Made with fresh ingredients and a little time, your craving for southern Louisiana foods will be satisfied.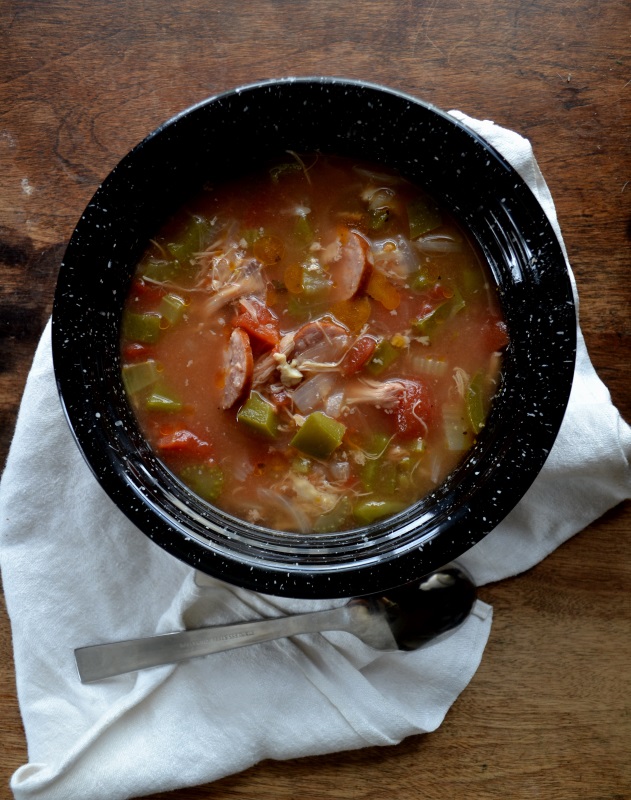 This recipe pulls together so easily, that if you can slice some sausage and chop some vegetables, you're well on your way to having dinner ready! 
The secret to this recipe is a small bit of pre-planning. You'll use your crockpot to prepare the chicken. Start the chicken out in the morning before you head out the door, then do a bit of chopping when you return, dinner's ready 30 minutes later!
There's so much flavor in this dish, your family will swear you worked all day over this meal. Since you spent time in the morning and in the evening, you can let them think that with no guilt!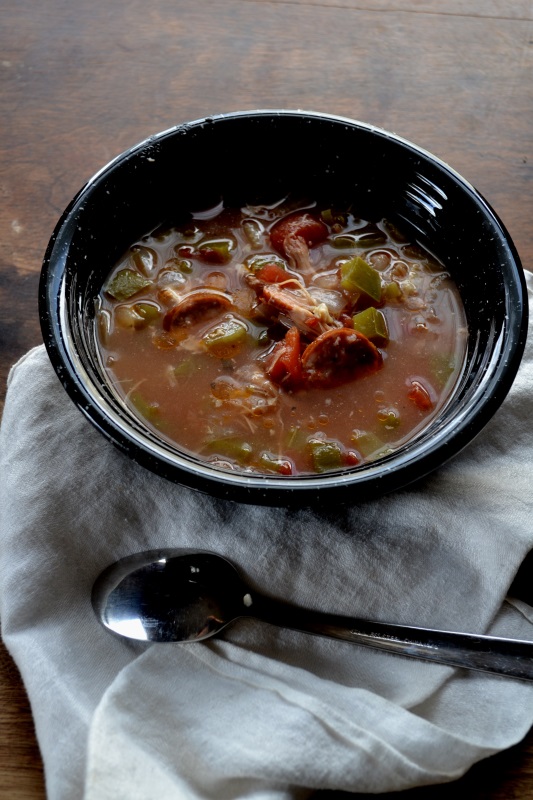 Life gets so busy some days it's hard to even remember your name. I saw a note from a friend the other day who said she'd had such a hectic day, that she thought she needed a clone. Now, I'm not certain about the technology advances that might let us have a clone. But I can agree there are days I'd like one. I'd make my clone do all the chores I hate, while I did the things that are more pleasurable.  Think scrubbing the bathroom vs cooking supper. LOL
I've had my share of those days, that's for certain. When I was a single mom, raising my two kids, working full time, going to night school (do they call it that anymore!?) and attending the kids' after school activities … yeah those were busy days. Those are the kinds of days when I relied on simple recipes. Ones that only needed a few ingredients and took just a few steps to assemble.
Sausage Chicken Gumbo, so simple you can make it on a weeknight!
Click To Tweet
Because honestly, who has time for a complicated menu when studying Accounting (which I'm allergic to), assisting with history homework, sorting laundry and doing that last minute load, because tomorrow is both A) Tennis match "Where's my uniform?" and B) Green sock day at school.
Simple recipes are my favorite. Even now when I no longer have to worry about sports uniforms or the 100th day of school.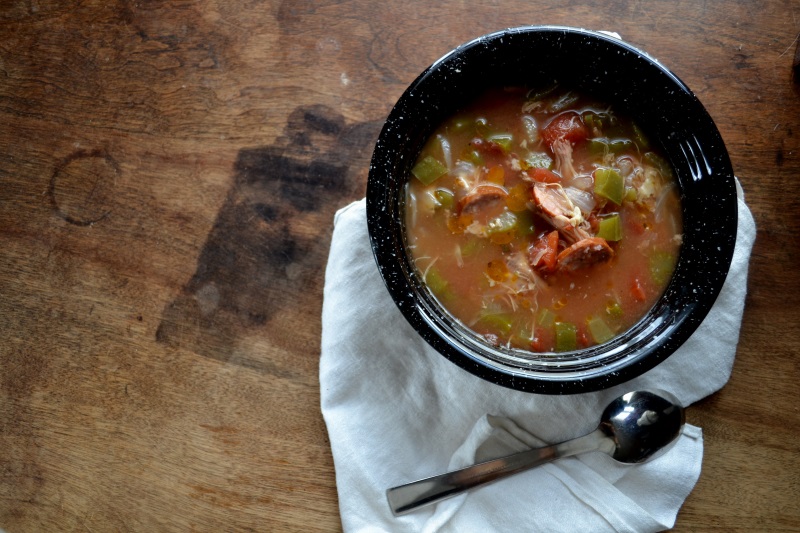 Make It a Meal:
Since this recipe contains two types of meat and several vegetables, you're pretty well set on the main food groups. Add some biscuits or cornbread and you'll be all set to eat! This Greek Cornbread is a perfect thing to accompany your gumbo. This dish is also terrific served over rice or noodles.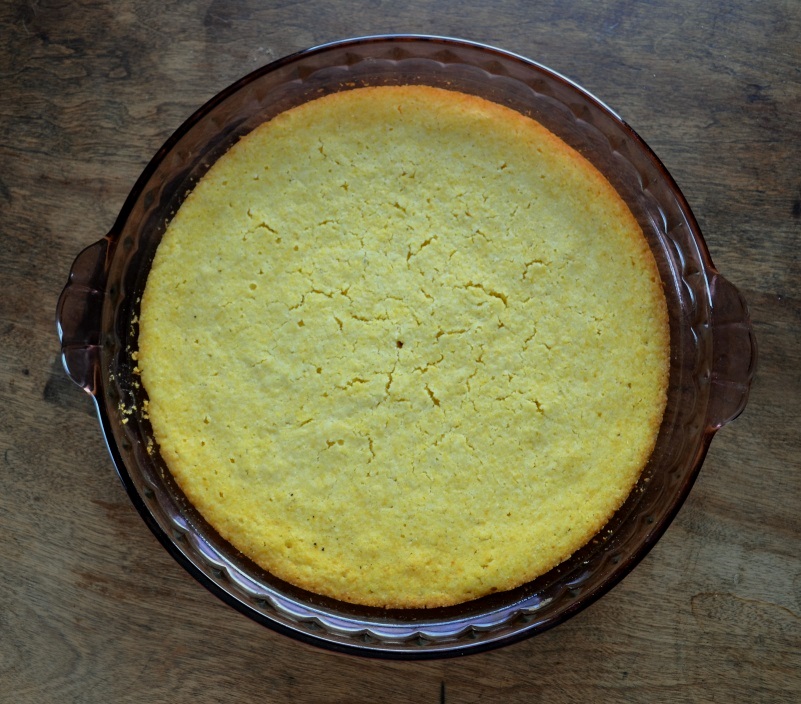 This recipe came about at the request of my husband. We'd fallen into a bit of a menu rut and I was tired of making the same old things. To give him credit, my husband eats everything and says "Thanks for cooking." No matter how mundane the meal might be. That is one of his greatest qualities, his appreciation of my supper efforts.
But since I was bored, I asked his input on something new to try. His solution: Gumbo.
Where in the world did a New England heritage, North Western Pennsylvania raised fellow come up with gumbo? This North Central Ohio girl of New England Puritan descent had no idea where to start.
I did what any cook would do and read a few cookbooks, checked out Pinterest and Google for ideas. Then I combined all the recipes I read in my head to come up with a sausage chicken gumbo I could make using ingredients we like and that are available in my small town.
Pin It!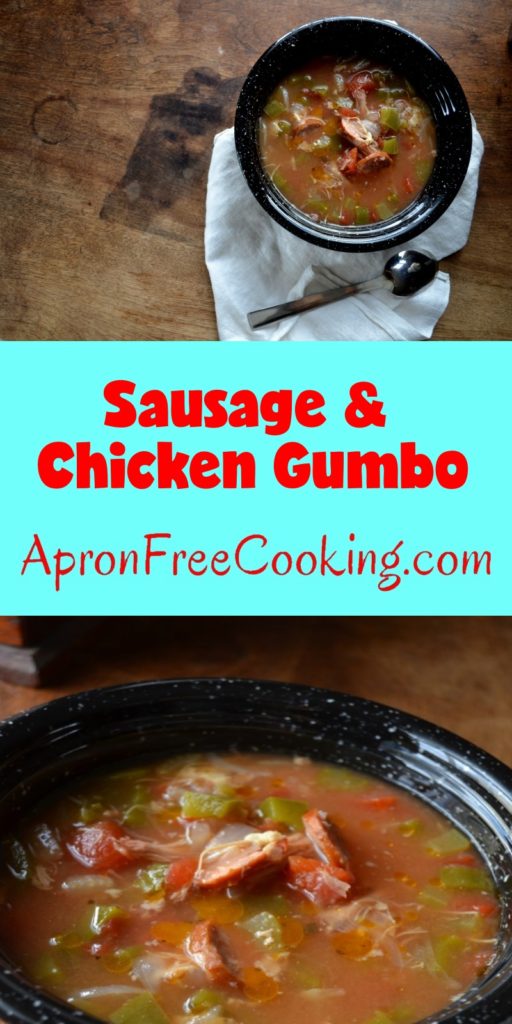 Evidently, my sausage chicken gumbo recipe was a hit. I think I got two bowls out of the entire pot full. My husband ate the rest all by himself. He ate it for three days straight, breakfast, lunch, snack and dinner, I swear!  I might be exaggerating, but he loved it and so it'll be on the menu again soon.
Sausage Chicken Gumbo Recipe
Ingredients:
2 Chicken Thighs
1 tsp Basil
1 tsp Paprika
Salt & Pepper
1 c Water
1 lb Smoked Sausage
32 oz Diced Tomatoes
2 ribs Celery
3 lg Green Peppers
2 sm Onions
32 oz Chicken Broth
1/2 tsp Red Pepper Flakes
Recipe Directions:
Place chicken thighs, basil, paprika, salt, pepper and water in small slow cooker and heat on low for 4 hours.
Remove chicken from slow cooker, shred meat from the bones and discard the bones.
Add shredded chicken to large stock pot. Slice smoke sausage link into 1/4 inch slices and place in pot with chicken.
Pour diced tomatoes and juice over the meat. Add the chicken broth from the slow cooker.
Chop the green peppers, celery and onions into 1/4 to 1/2 inch pieces. Add the vegetables to the stock pot. Top with red pepper flakes and chicken broth.
Simmer over medium heat on the stove top until vegetables are tender. About 25 minutes.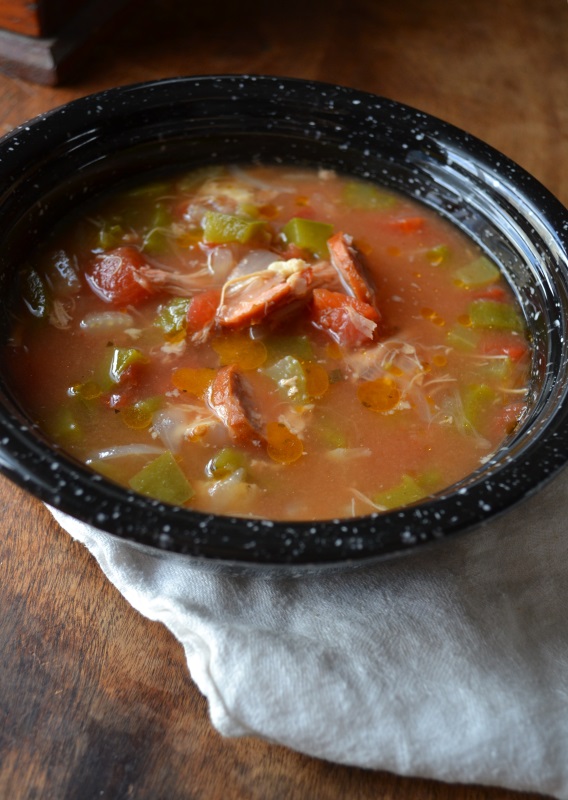 Approximate Nutritional Information:
Servings Per Recipe: 14, Amount Per Serving: Calories: 145, Fat: 10g, Cholesterol: 24g, Sodium: 458mg, Carbs: 6g, Protein: 6g
Variations:
If you have some left over veggies in the fridge, toss them into the pot. Might as well use them up!  No chicken thighs? No problem, use breasts or drums. If you like your gumbo on the spicy side, double the red pepper flakes. Put a bottle of Tabasco on the table so diners can self spice. If you like seafood, you can add some shrimp or crawfish.
Follow ApronFreeCooking:
Twitter – @ApronFreeCook
This post may contain affiliate links . There are no additional costs passed on to you if you click on the links in this post. Any money earned from commission helps me cover the cost of maintaining this website.