I'm craving chili! This No Bean Chili is going to be the way I satisfy that craving.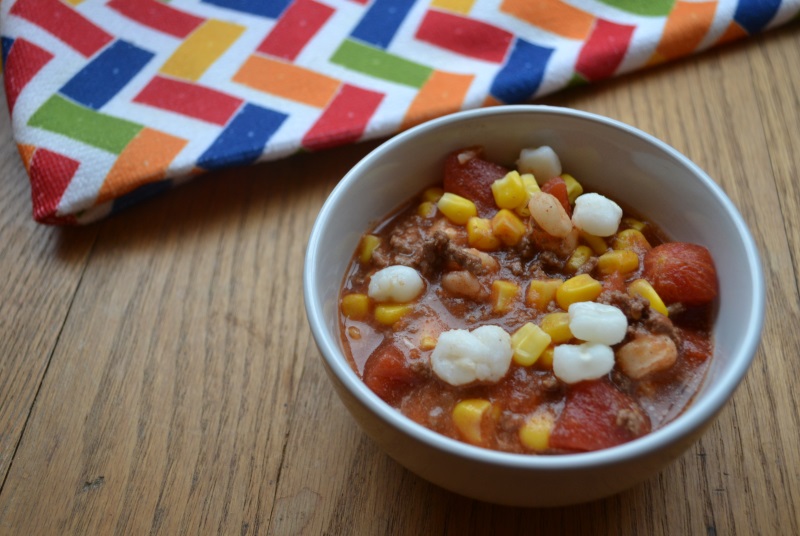 Cold weather. Snow. Temperatures in single digits. That's been our weather in Ohio lately. Those factors all added together make me crave chili. I want a big Crock Pot of hot, steamy, thick, chili. This recipe only makes a smallish batch, but it's super easy and you can whip it up any day!
Do you love thick, spicy, hot, and hearty chili? I sure do! It's one of my favorite winter foods. I have a whole collection of chili recipes and even a cookbook or two dedicated to the topic.
My favorite chili recipes are:
Prize Winning Red Chili
Prize Winning White Chili
Rachel's White Chicken Chili
But, guess what… all those recipes call for beans. Now, I like beans in my chili. But my husband does not. That leaves me with three options.
1. Eat all the chili myself. – not a good idea.
2. Cross chili off the menu altogether. – not a good idea.
3. Make a chili with out beans. -it can be done.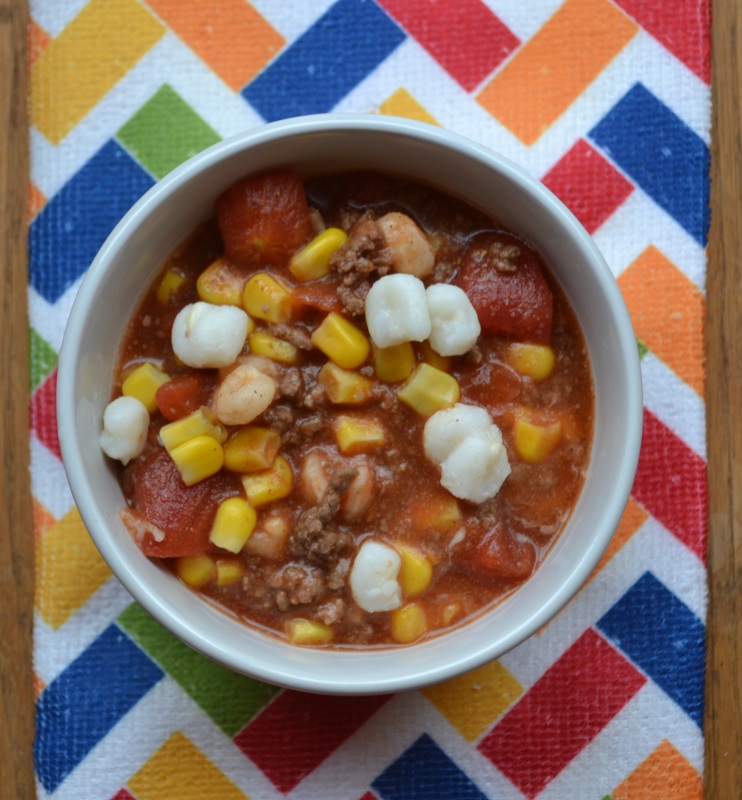 Pin It:
If you love this recipe and want to save it for later, pin it to your Pinterest account.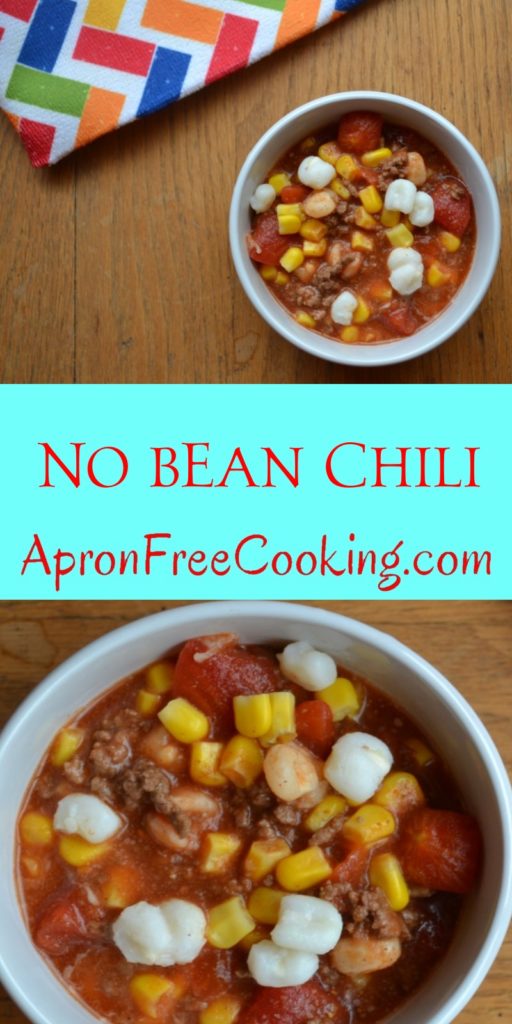 Variations:
Add some hot peppers – banana or jalapeno. Change up the spice level of your salsa to medium or high. Toss in some mushrooms. Use bits of round steak instead of ground beef.
For those who don't know what hominy is …
Hominy is a type of corn soaked in an alkali solution. The solution removes the hull and germ of the corn. What's left is the grain and that puffs up like a larger than normal size. I buy it in the canned food aisle of my local grocery.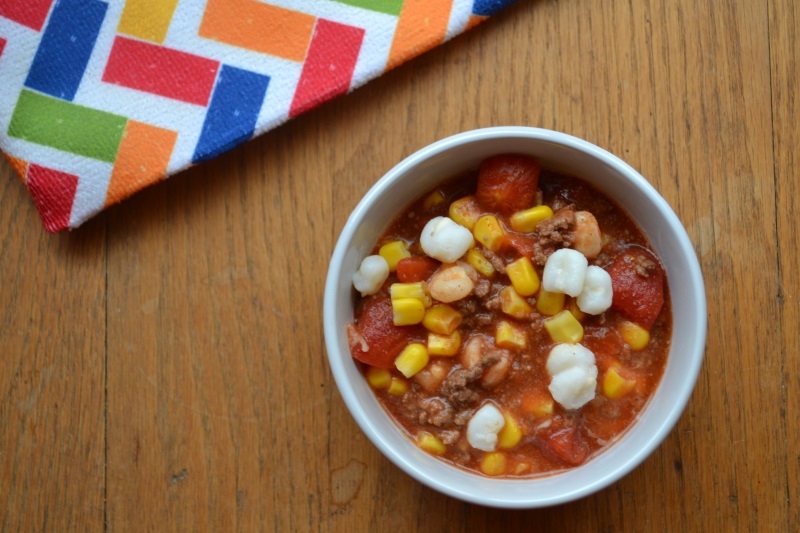 Make It a Meal:
Serve with biscuits or cornbread, top with sour cream or shredded cheese.
No Bean Chili Recipe
Ingredients:
#ConvenienceCooking ingredients! Diced Tomatoes, Salsa, Ground Meat, Onion, Whole Kernel Corn and Hominy.
Recipe Directions:
Chopping, browning, opening some cans or jars and heat all the way through. It can't get much easier than that!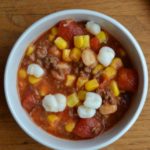 No Bean Chili Recipe
Hot and hearty, this chili recipe will satisfy your cravings. More importantly, it's going to be loved by the folks in your crowd who dislike beans!
Ingredients
Ingredients:
14

ounce

Diced Tomatoes

(1 can)

15

ounce

Salsa

(1 jar)

1

pound

Ground Meat

1

large

Onion

14

ounce

Whole Kernel Corn

(1 can)

14

ounce

Hominy

(1 can)
Instructions
Recipe Directions:
Dice the onion and brown with the ground meat until well cooked.

Drain excess fat and discard.

Add remaining ingredients to small crock pot and heat on low for 3 hours.

Alternate Method:

If you're in a hurry, add everything to your largest saucepan and simmer on the stove top for 20 minutes.

Approximate Nutritional Information:
Servings Per Recipe: 8, Amount Per Serving: Calories: 403, Total Fat: 7g, Cholesterol: 51mg, Sodium: 504mg, Total Carbs: 64g, Protein: 28g.
(please remember these are approximate and will vary slightly based on your ingredient selections.)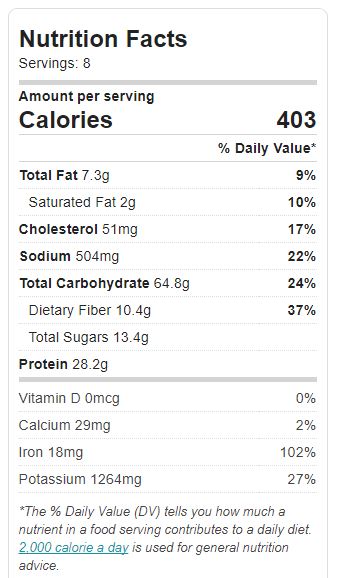 Shop Apron Free Cooking on Etsy
Follow ApronFreeCooking:
Twitter – @ApronFreeCook
This post may contain affiliate links . There are no additional costs passed on to you if you click on the links in this post. Any money earned from commission helps me cover the cost of maintaining this website.