Simple queso dip is the perfect snack food! Think about creamy, cheesy, spicy dip on a crunchy chip, go on, now you know you want to scoop up a bowl!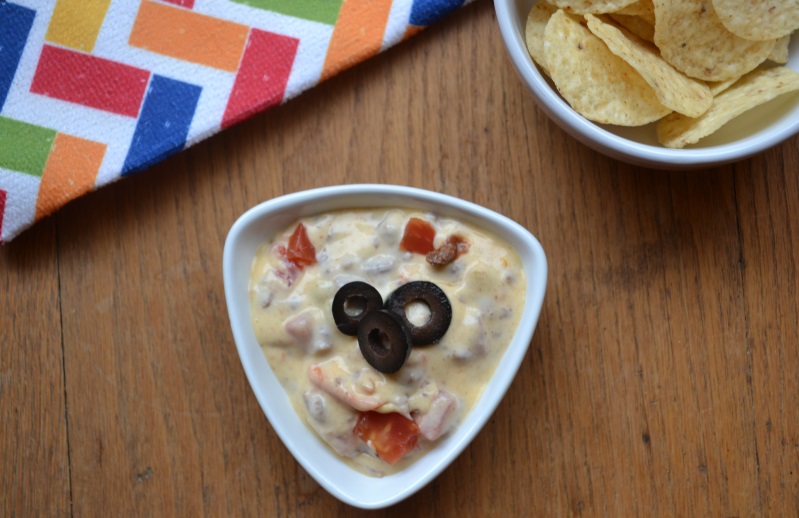 This simple queso dip is so easy to make, you'll be mixing up a batch every time you turn around! Only four ingredients are required. 
I love chips and salsa, but adding some cheese makes me extra happy! I'm in the crowd that believes cheese should count as the 5th food group. I can truly make a meal of queso dip. I've used several recipes over the years and can't say I've found one I don't like.
This recipe is super simple, relying on #ConvenienceCooking ingredients. Two of my favorite shortcut grocery store items for this recipe are tomatoes with chiles and nacho cheese.
I just add some ground meat and sliced olives, then dip in my chips. It really doesn't get much easier than that. This is a recipe even beginner cooks can make successfully.  The other nice things about this recipe is that it makes a fairly small supply of dip, so if you're dining alone or with your spouse, you don't end up with gallons of dip left over.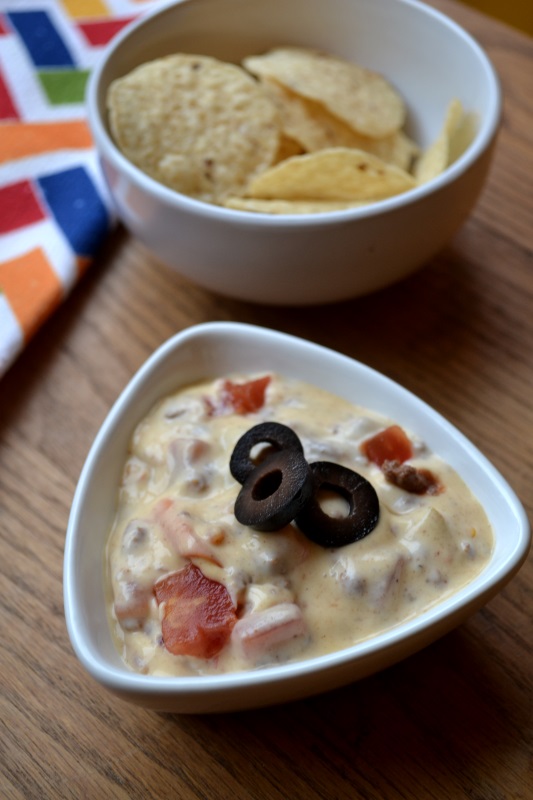 This dip is a great snack food for football games, #TacoTuesday or tailgate party. However, if you're planning to serve a crowd, you'll want to double or triple this recipe.
Make It a Meal:
I like adding simple queso dip to the table when we're having a Mexican or Tex-Mex night. Other dishes I serve on those days include: Mushroom Quesadilla, No Bean Chili, Pineapple Salsa, and Nacho Grande Boat with Sweet Pepper Salsa.
Pin It:
If you love this recipe and want to save it for later, pin it to your Pinterest account.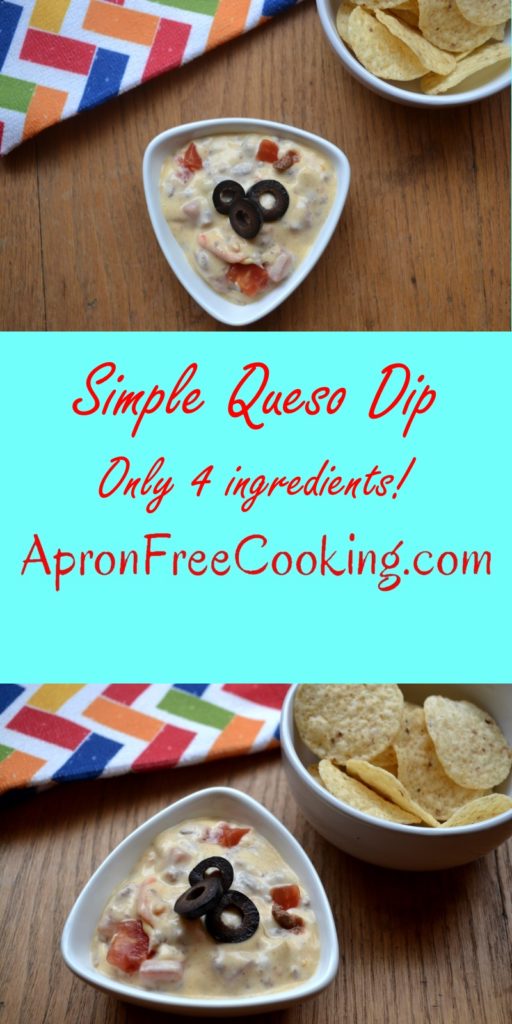 Simple Queso Dip
Ingredients:
Nacho cheese, tomatoes with chiles, ground beef and black olives.
Recipe Directions:
Mix, heat and eat!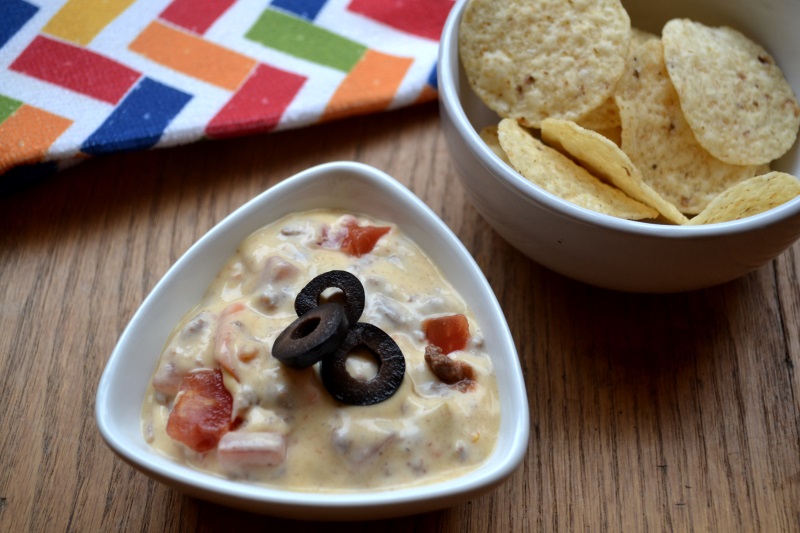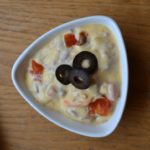 Simple Queso Dip
Perfect for snacking while watching the big game or just munching alongside your tacos!
Ingredients
15

ounces

Nacho Cheese

10

ounces

Tomatoes with Chilies

5

ounces

Black Olives

sliced

1/2

pound

Ground Beef
Instructions
In a skillet, cook the ground beef until brown and broken into small pieces.

Combine all ingredients in a medium saucepan and stir well.

Alternate method:

Combine in small slow cooker and heat on low until heated through.
Approximate Nutritional Information:
Servings Per Recipe: 10, Amount Per Serving: Calories: 120, Fat: 2g, Cholesterol: 20g, Sodium: 380mg, Carbs: 15g, Protein: 7g
(please remember these are approximate and will vary slightly based on your ingredient selections.)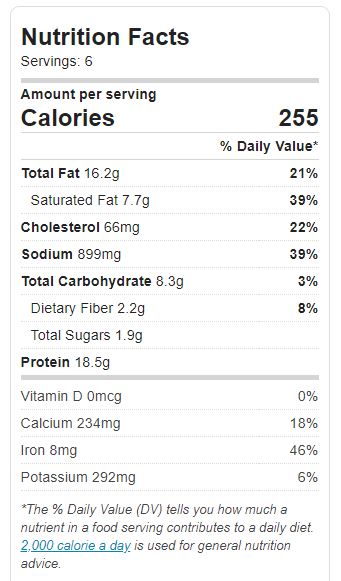 Shop Apron Free Cooking on Etsy
Follow ApronFreeCooking:
Twitter – @ApronFreeCook
This post may contain affiliate links . There are no additional costs passed on to you if you click on the links in this post. Any money earned from commission helps me cover the cost of maintaining this website.