Diamonds are forever, so the saying goes. But what I'm looking forward to this Valentine's day is a combination of chocolates, diamonds and cheesecake. This Valentine cheesecake is the dream come true.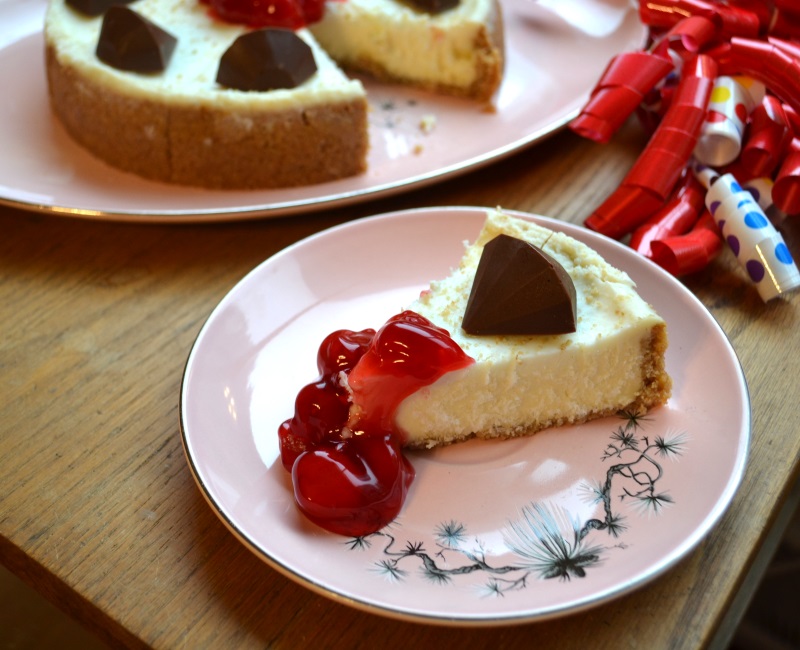 Not everybody has a lot of  time to make a fancy Valentine dinner for their sweetheart. This Valentine cheesecake is one you can put together in just minutes.
The secret is the use of #ConvenienceCooking ingredients. If you have time for making a homemade-from-scratch cheesecake, then I say go for it, there's nothing better! But honestly, you can find some really good frozen cheesecakes or some box mixes that are fabulous.
My husband is a big fan of grilled steak dinners … you know, old fashioned,juicy, red meat with baked potato. I'm not such a big fan, I'd rather have a lighter meal. I'd fix him his dinner of preference for Valentine's Day, except it's going to be cold and miserable for standing by the grill and the fact that I'm not all that great at grilling steaks!
I'm not sure just yet what our Valentine's Day dinner is going to be. It will be wonderful at any rate. But I do know what we're having for dessert! I'm fixing this super fast, crazy easy, looks really fancy Valentine Cheesecake for dessert.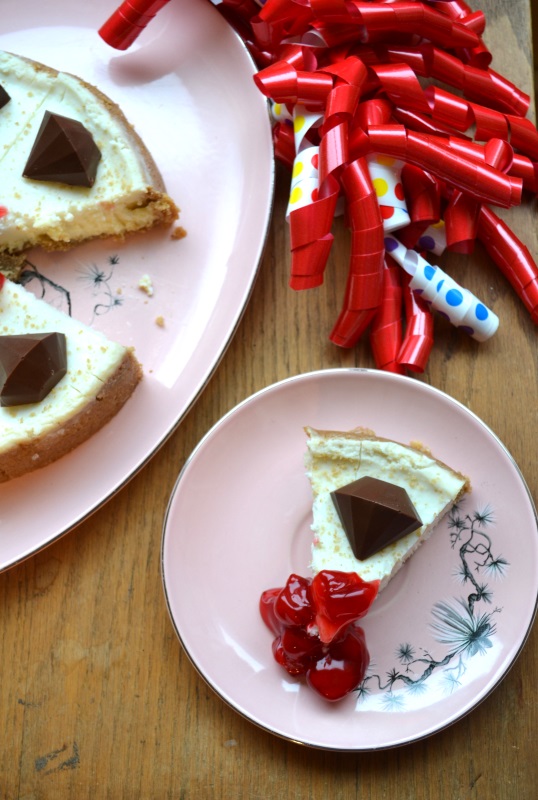 I found the cutest chocolate molds last month. I used them to make the chocolate diamonds on this cheesecake. However, if you don't have a fun mold like that, just buy a bag of those large chocolate hearts and place them on top the cheesecake. Heck, you can even leave them wrapped in the fancy red, gold and silver foil for extra pretty looks if you like.
I've made a fantastic homemade-from-scratch-cheesecake. It's the traditional New York Style Cheesecake and it tastes fabulous! It's totally amazing! But it takes time. Like 3 hours to bake. And on a weeknight, who has that kind of time!
Make It a Meal:
Serve this Valentine Cheesecake with a coffee rubbed pork roast, spaghetti with mushrooms, shrimp dip, chocolate heart cookies or chocolate dipped pretzels.
Pin It:
If you love this recipe and want to save it for later, pin it to your Pinterest account.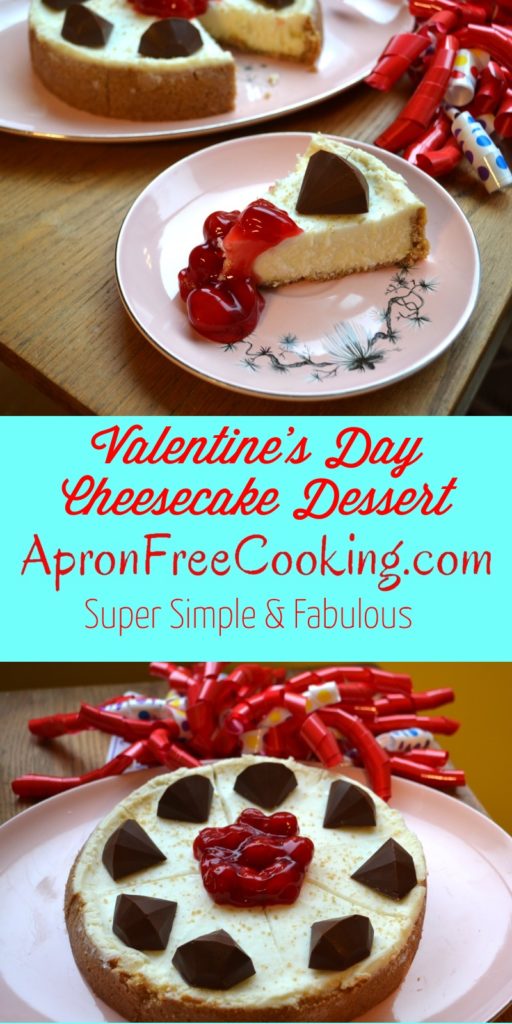 Valentine Cheesecake Dessert Recipe
 Ingredients:
Frozen or made from package cheesecake, cherry pie filling, chocolates.
Recipe Directions:
Prepare the cheesecake, top with cherries and chocolates.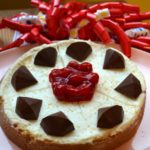 Valentine Cheesecake Dessert
Romantic, delicious and easy to prepare!
Ingredients
1

Cheesecake

1/2

cup

Cherry Pie Filling

8

Chocolate Diamonds / Hearts
Instructions
If using a frozen cheesecake, place on serving dish and allow to thaw.

If using a package cheesecake mix, prepare according to package directions. Allow time for filling to set up and chill in refrigerator.

Place chocolate candies around outside edge of cheesecake, one on each serving.

Place cherry pie filling in center of cheesecake.

Approximate Nutritional Information:
Servings Per Recipe: 8, Amount Per Serving: Calories: 255, Fat: 13g, Cholesterol: 9g, Sodium: 95mg, Carbs: 31g, Protein: 3g
(please remember these are approximate and will vary slightly based on your ingredient selections.)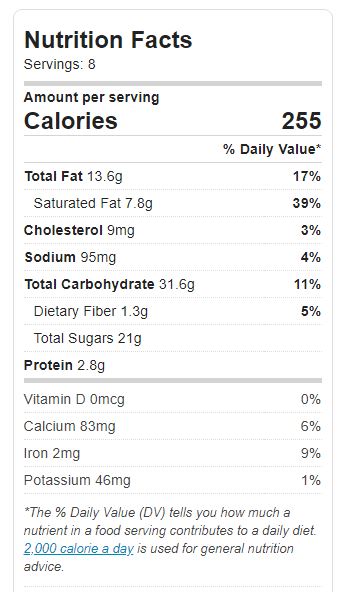 Shop Apron Free Cooking on Etsy
Follow ApronFreeCooking:
Twitter – @ApronFreeCook
This post may contain affiliate links . There are no additional costs passed on to you if you click on the links in this post. Any money earned from commission helps me cover the cost of maintaining this website.