When you're craving something decadent and over the top sweet, these seven layer cookie bars are exactly what you need. Chocolate chips, graham crackers, butterscotch chips, coconut flakes – sweetness overload. You won't be able to stop eating them!
One of the simplest cookie recipes you'll ever encounter. Honestly, the instructions are pour then bake.
These really are a great cookie for beginner bakers or for busy people who love baking. If you can measure ingredients and handle a hot pan, you've got the skills it takes for this cookie bar. These seven layer cookie bars are popular at bake sales and on holiday cookie plates. I think because they look so fancy, nobody realizes how simple they are to make!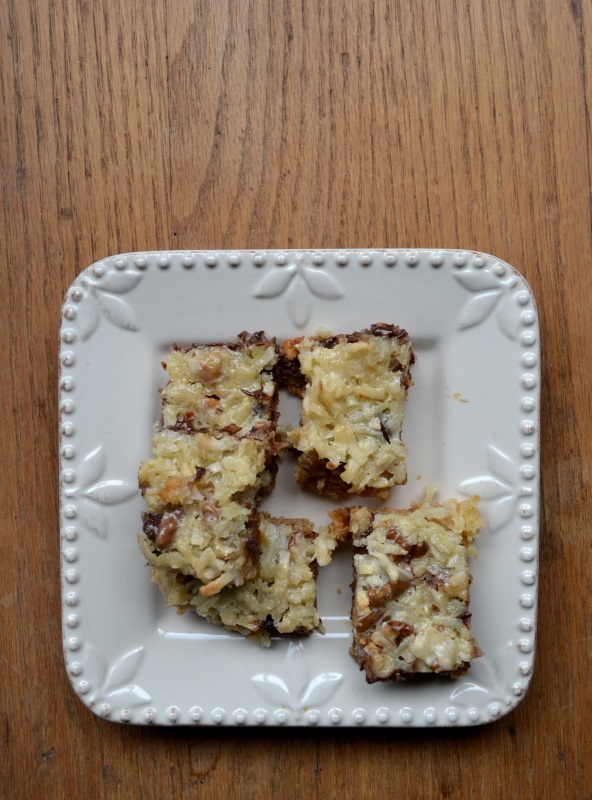 I usually cut these seven layer cookie bars into nearly bite size bars. They are rich and gooey and sometimes all you need is a nibble. The usual serving size is about and inch wide by two inches long, which is about brownie size. However, if I'm making a cookie tray or adding these to a dessert buffet, I cut the bars one inch by one inch.
Satisfy your sweet tooth with seven layer cookie bars.
Click To Tweet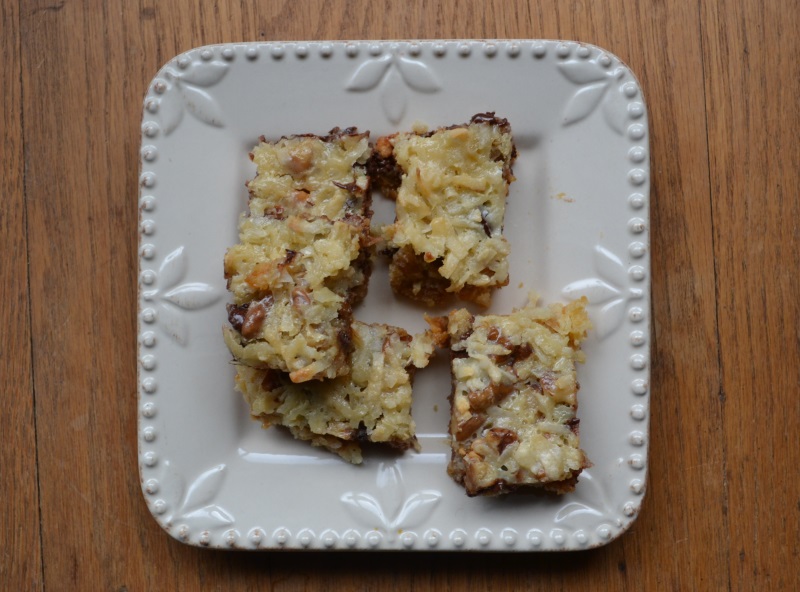 Store these seven layer cookie bars in an airtight container. You can keep them on the countertop if you're planning to eat them in a few days. This is usually what happens at my house! If you're planning ahead for holiday baking, store the cookies in the freezer up to one month.
Make It a Meal:
Create a dessert buffet and offer a variety of sweets. Some of my favorites include: Oatmeal Pie, Key Lime Pie, Fresh Fruit Cheesecake, and Mocha Chocolate Cake.
 Pin It:
If you love this recipe and want to save it for later, pin it to your Pinterest account.
Seven Layer Cookie Bars Recipe
Ingredients:
¼ cup margarine or butter
½ cup graham cracker crumbs
½ cup chocolate chips
½ cup butterscotch chips
½ cup flaked coconut
½ cup chopped nuts
½ cup sweetened condensed milk
Recipe Directions:
Preheat oven to 350 degrees Fahrenheit.
In a 9×9 baking pan, layer the ingredients as listed above.
Bake at 350 degrees for 30 minutes.
Allow to cool, slice and serve.
Approximate Nutritional Information:
Servings Per Recipe: 12, Amount Per Serving: Calories: 189, Total Fat: 12g, Cholesterol: 9mg, Sodium: 68mg, Total Carbs: 21g, Protein: 2g.
(please remember these are approximate and will vary slightly based on your ingredient selections.)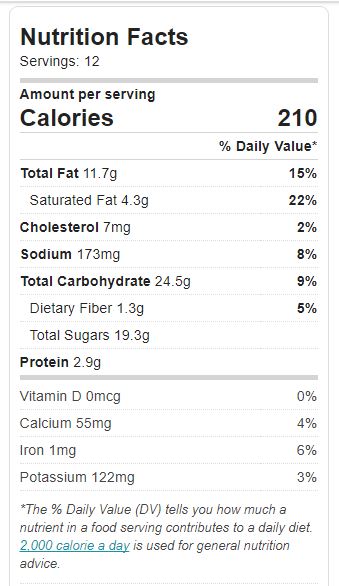 Shop Apron Free Cooking on Etsy
Follow ApronFreeCooking:
Twitter – @ApronFreeCook
This post may contain affiliate links . There are no additional costs passed on to you if you click on the links in this post. Any money earned from commission helps me cover the cost of maintaining this website.