Winter squash is a group of vegetables that ripen during the late fall and store well throughout the winter. A stable root cellar food item, baked winter squash is making a come back. It is especially good when served baked with some brown sugar and butter.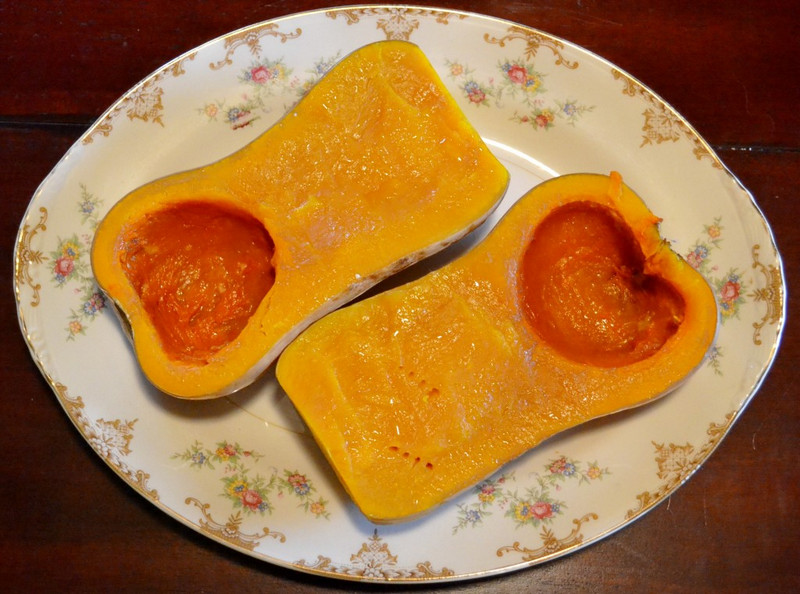 Baked winter squash is easy to prepare and has become one of my family's favorite winter vegetables.
I think there are three kinds of people in the world.
1. Those who like squash.
2. Those who don't.
3. Those who've never tried it.
I know that's a simplification of the human race, but seriously, don't you agree? Do a quick survey of your friends and family and you'll find I'm right. I fall into the first camp. I like squash. I like all kinds of squash. Acorn, butternut, banana, carnival, yellow, zucchini, hubbard… the list goes on. My grandpa always planted several varieties of squash in his New England garden. He would store them in bushel baskets in the basement for winter eating.
My daughter is not a fan of squash. I think that's because it's a cousin to zucchini.  When she was little, she liked Acorn Squash. Then she grew up a bit and realized that her friends didn't like squash and she wasn't supposed to either. Or at least, that's my theory of what happened.
Baked Winter Squash is delicious and simple. It's also budget friendly!
Click To Tweet
Usually you can find winter squash on sale for about a dollar per squash. That's just a few cents per serving!
Make it a Meal
Serve as a side dish with turkey or ham. This is a great holiday side! Some other sides you'll want to include: Green Bean Casserole, Corn Pudding, Roasted Sweet Potatoes, and Roasted Onions.
Variations
Sprinkle with a bit of cinnamon or clove. Replace the brown sugar with maple syrup or molasses.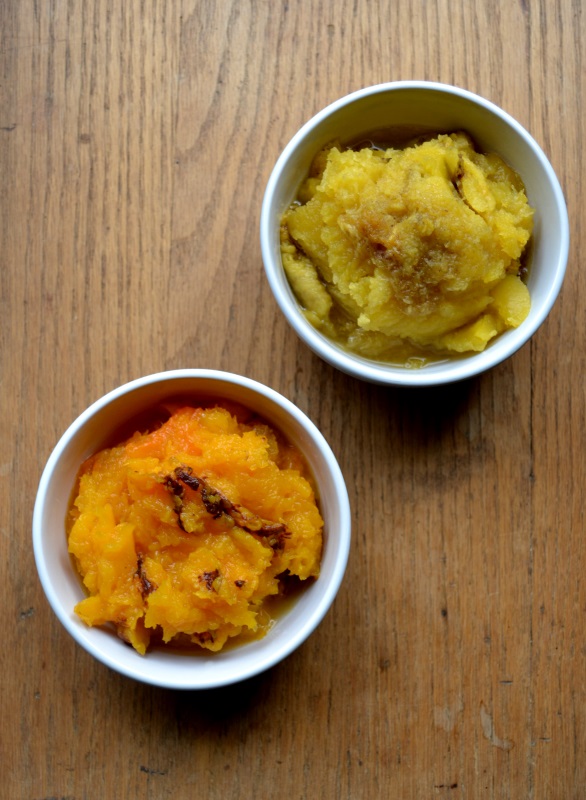 Butternut is a bright orange color when baked this way and makes an attractive side dish with light colored meats. Acorn squash is more golden yellow. That's why I like to serve it with chicken or turkey. For a really brilliant plate, add some green broccoli and you're all set!
Fall is when squash is ready for harvest and you'll find it for sale in the produce section or at the farmer's markets. You can store squash well into the winter by wrapping it in newspaper and storing in a cool, dry place.
When purchasing a squash, look for one that is firm and heavy. You don't want squishy squash. No matter how fun that phrase might be to say, it's not good eating!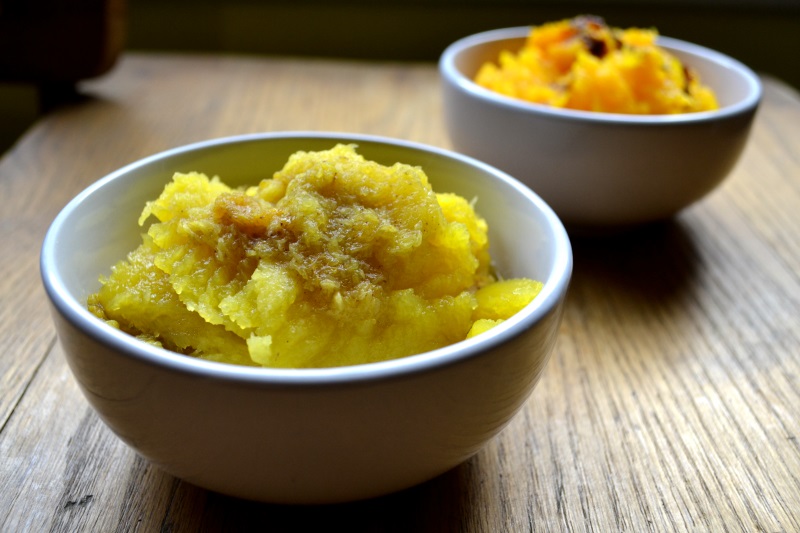 A hint for serving, you can transfer the squash, skin side down, from the baking pan onto a serving dish. Scoop directly from the vegetable, use a light touch, so you don't end up with skin in your portion.
The next time you're at the store and you see a squash, go ahead and pick one up. Give it a try. You may find yourself moving into the "those who like squash" camp.
Pin It:
If you love this recipe and want to save it for later, pin it to your Pinterest account.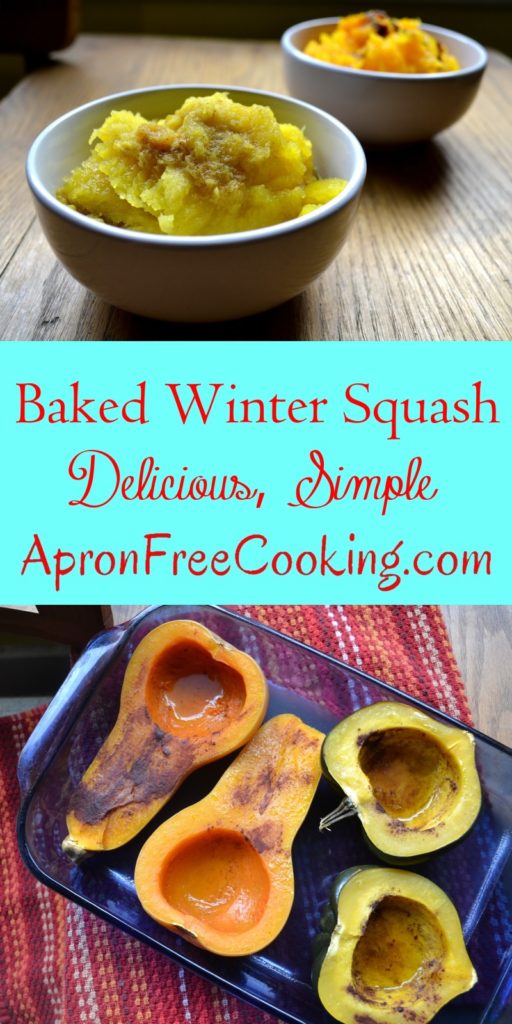 Baked Winter Squash Recipe
Ingredients:
1 Winter Squash
4 Tbsp. Butter
½ cup Brown Sugar
2 cup Water
Recipe Directions:
Preheat oven to 350 degrees Fahrenheit.
Slice the squash in half lengthwise.
Scoop the seeds and strands from the seed hollow.
Spread a thin layer of butter over the solid part of each half.
Place the remaining butter evenly in each hollow.
Sprinkle the brown sugar lightly on the squash.
 Place both halves, cut side up in a 9 x 13 inch baking dish.
Pour the water beside the squash, not on top. Cover with aluminum foil.
Bake at 350 for one hour. Serve with butter.
Approximate Nutritional Value:
Servings Per Recipe: 4. Amount Per Serving: Calories: 144, Total Fat: 5.9g, Cholesterol: 15mg, Sodium: 48mg, Total Carbs: 24.8g, Protein: 1.6g.
(please remember these are approximate and will vary slightly based on your ingredient selections.)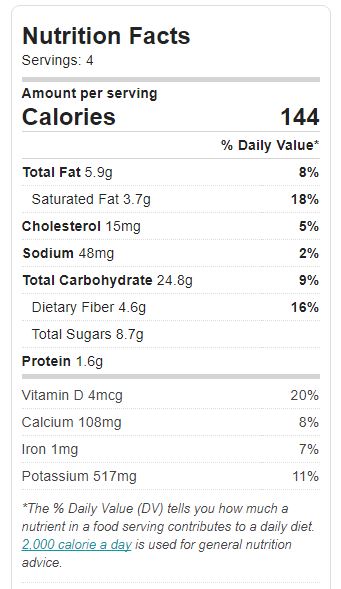 Shop Apron Free Cooking on Etsy
Follow ApronFreeCooking:
Twitter – @ApronFreeCook
This post may contain affiliate links . There are no additional costs passed on to you if you click on the links in this post. Any money earned from commission helps me cover the cost of maintaining this website.