A vintage recipe is tried and true, handed down from one generation to another. They are the ones we love to eat at dinner again and again.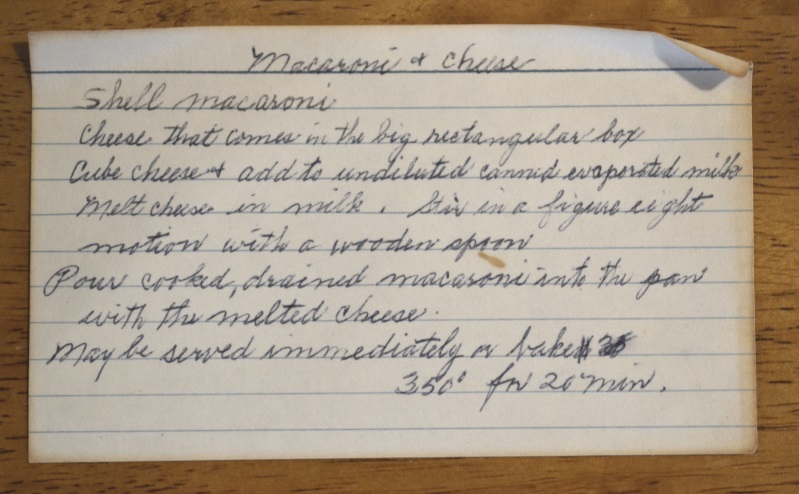 Some of the best and most popular recipes on Apron Free Cooking are vintage recipes. Keep reading to learn more about vintage recipes.
It's true these recipes are well loved and often used. But there's more that goes into a vintage recipe than the number of times it's been prepared.
Vintage Recipes - what are they and where can you find them?
Click To Tweet
Definition of Vintage
To understand what a vintage recipe really is, you need to understand the definitions of the words that make up the term. Vintage is a word that means old, but not as old as antique. There isn't really a science to the term, more of an agreed upon definition.
Clothing from the 1920s to 20 years before the present day is considered vintage. Retro, short for retrospective, or "vintage style," usually refers to clothing that imitates the style of a previous era.
Furniture and small appliances tend to be considered vintage anywhere from 25 to 50 years old and beyond. The term vintage however is highly subjective.
An item should be at least 100 years old to be defined as an antique. Generally speaking if the item is no older than an antique but not less than 20 years, it falls under the term vintage
Estate jewelry is a term used to describe previously owned jewelry. This jewelry is usually acquired from estates or jewelry that has been sold and is often antique or vintage in nature. Antique jewelry is jewelry that is 100 years old or older, while the term "vintage" includes many decades or eras.
Most will say something qualifies as vintage if it's 20 to 25 years old or older. In fact, the online shop Etsy, which allows users to sell vintage and handmade goods, requires items labeled vintage to be at least 20 years old.
Definition of Recipe
Most of us know what a recipe is. It's a common word in our language. But it is interesting to look at the official definition of the word.
Merriam Webster Dictionary
Definition of recipe –1: PRESCRIPTION sense 4a, 2: a set of instructions for making something from various ingredients, 3: a formula or procedure for doing or attaining something a recipe for success
Cambridge Dictionary
Recipe – noun, a set of instructions telling you how to prepare and cook a particular food, including a list of what foods are needed for this.
The History of
Receipt

and

Recipe

These days it may seem odd to speak of "grandma's cookie receipt," but at one time the only meaning of receipt was "recipe." The first recorded use of receipt is a reference to a medicinal preparation in Chaucer's Canterbury Tales (c. 1386).

Recipe didn't arrive until the 1500s, and it was also first used to describe medicine. Both words began to be applied to cooking only in the 18th century, after which recipe slowly became the preferred word.

Receipt acquired its currently more familiar sense of "a written statement saying that money or goods have been received" in the 17th century.

Both receipt and recipe are thought to be ultimately derived from Latin recipere ("to receive"), making them probable relatives as well as synonyms.
Where do you find vintage recipes?
If you're looking to collect or just try preparing vintage recipes, you need to have some on hand. Where do you find vintage recipes?
They are all around us! Ask your mom, grandma or aunt to see if she has a collection stashed in her kitchen. Often you'll discover these women have some recipes, the trick is getting them to share!
Another great resource are the community cookbooks sold as fundraisers by church, school and other women's groups. Contributors only gave up their best recipe for these publications, so you know the recipe has been tested time and again!
Sometimes, you'll find a recipe box or a binder of clippings at estate sales, second hand shops and thrift stores. When you see these items for sale, grab them up. You'll have a treasure trove in your possession.
What is a good vintage recipe?
As with all recipes, what a good vintage recipe might be is often a matter of opinion. There are some unarguable ways to identify a good vintage recipe, however.
Are people continuing to make this recipe?
Are the ingredients easily available today?
Can you follow the directions using modern equipment?
Many of the best vintage recipes have become family traditions. They are handed down to new generations and are served at family gatherings routinely.
The best vintage recipes are frequently asked for at those family gatherings or when the dish is taken to a potluck, attendees beg for the recipe.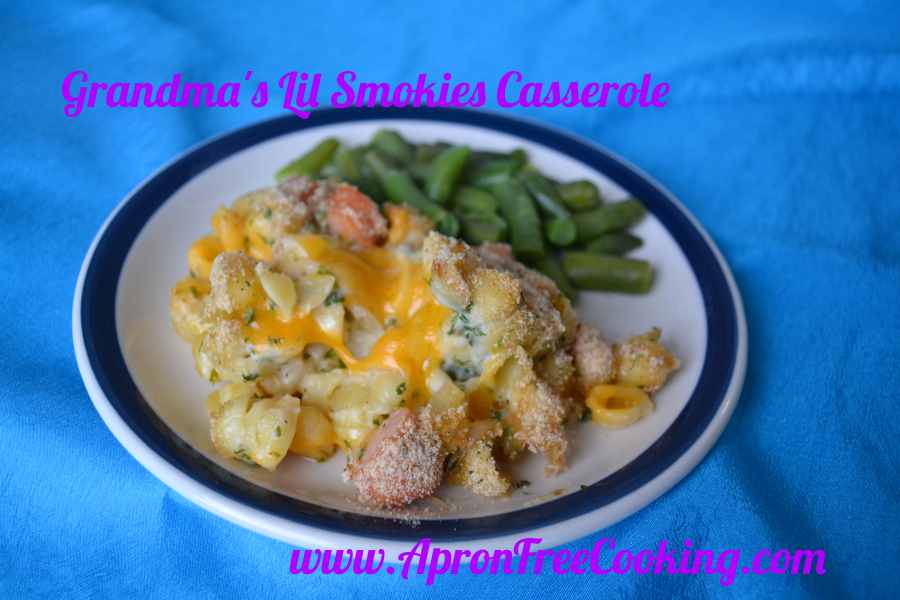 My grandma's vintage recipe for Lil Smokies casserole is a prime example. Not only is it a family tradition, it's become one of the most popular recipes on Apron Free Cooking.
What is a bad vintage recipe?
The initial criteria for answering what is a bad vintage recipe is the same as for defining a good vintage recipe. It's largely a matter of opinion.
Bad vintage recipes often include ingredients that were trendy and are no longer available. Celery flavored Jell-o gelatin is a prime example of an ingredient that is no longer on the market. I'm pretty sure the only reason it existed in the first place was due to the popularity of flavored gelatin.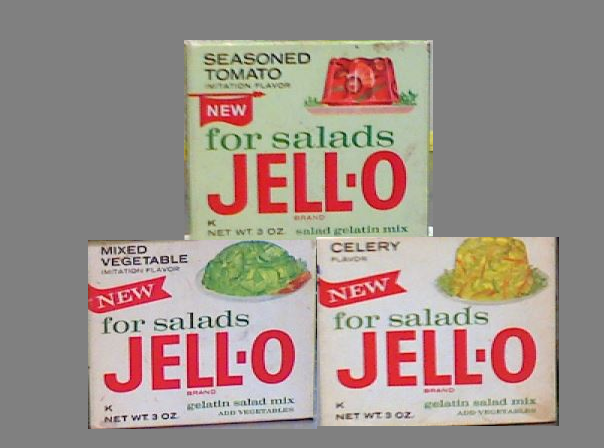 Usually it's a matter of taste, what we consider today to be gross food combinations, were at one time highly sought after dishes.
Of course, the way a food looks on the plate is our first impression and nobody wants to even try an icky looking presentation.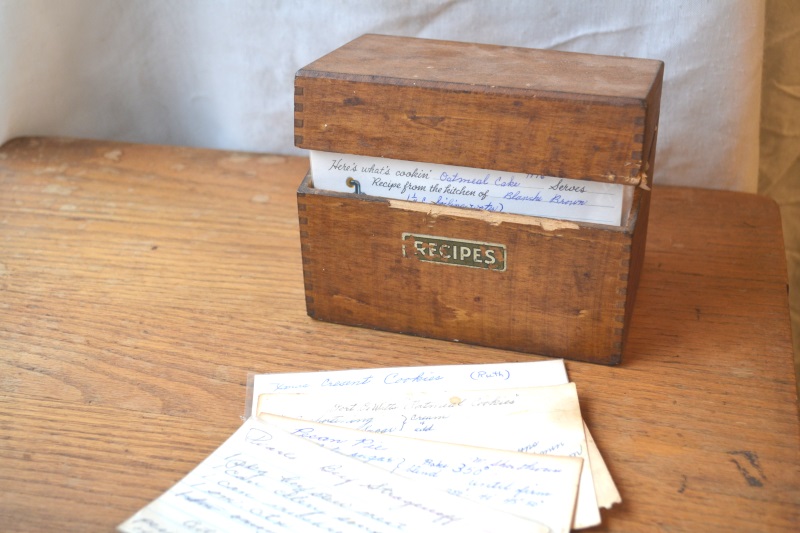 How to store my vintage recipes?
This question is best answered after some further consideration. The best storage method depends on how you want to preserve the recipes. Are you looking to use them on a regular basis or exhibit them as works of art?
My grandma used a recipe box (shown above). If you're a bit crafty and want to use some wordworking skills to make your own wooden recipe box, you can find instructions here from the Woodworkers Guild of America or here from The Wood Grain Cottage.
I created a Pinterest board for all the variety of recipe boxes and cards I've found in my travels. There are some really great ideas here!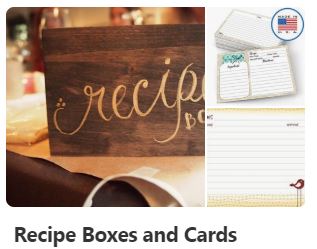 This Etsy store has a genius idea on storage, by creating a flip book using tiles or pieces of wood as the cover and securing the recipe cards with rings.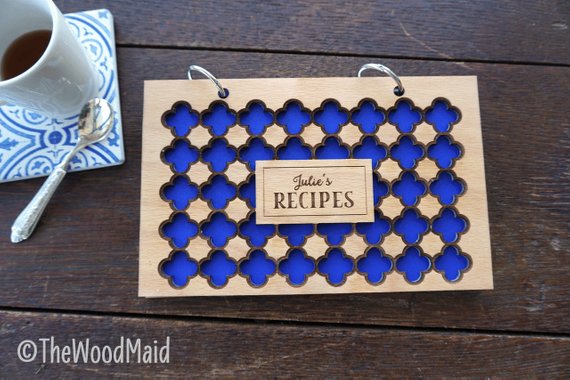 My niece has used a three ring binder to store her collection of recipes. She uses sheet protectors on each page to protect the paper from spills.
I've seen vintage recipes collected in a Kitchen Drawer. This solution is not great because the clippings and pages tend to become jumbled, torn and crinkled. Then there's that one page that gets shoved behind the drawer and turns into confetti pieces.
One modern approach to storing vintage recipes is to use an electronic method. Scan or type the recipe into your computer. Create files that you can easily reference.
If you like the book approach, use a plain page journal to record your family recipes.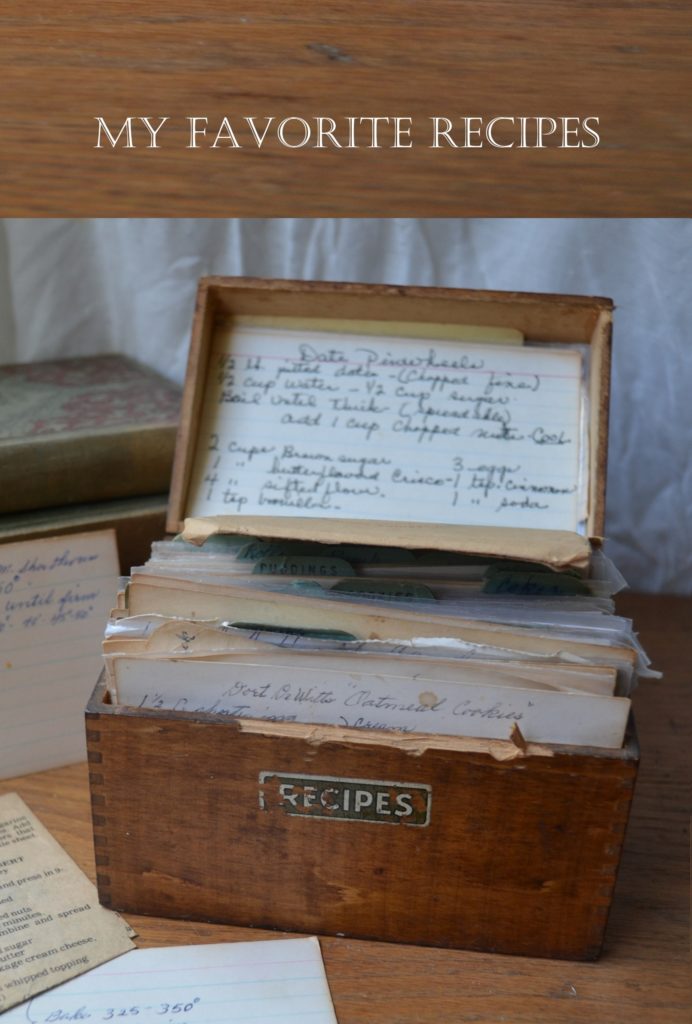 Follow ApronFreeCooking:
Twitter – @ApronFreeCook
This post may contain affiliate links. There are no additional costs passed on to you if you click on the links in this post. Any money earned from commission helps me cover the cost of maintaining this website.