Deviled eggs are one of the most popular appetizers around. This super easy cheesy deviled eggs recipe will make you the queen of the potluck!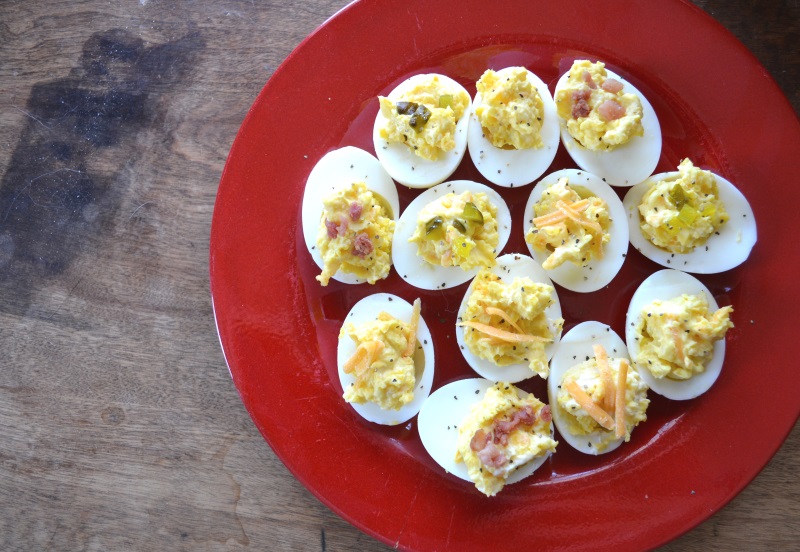 This recipe is one that evolved to tempt the picky eaters in my family. Have you ever met a child who can't be tempted by cheese? Cheddar cheese is the secret ingredient in this recipe. You'll find it's a nice touch, both for the flavor and the texture.
We always ate deviled eggs at Easter time. That's because my mom had a rule that each child had a dozen eggs in his assigned color to hunt. This sure kept the fighting to a minimum since we each knew which were our eggs and which ones to leave for somebody else.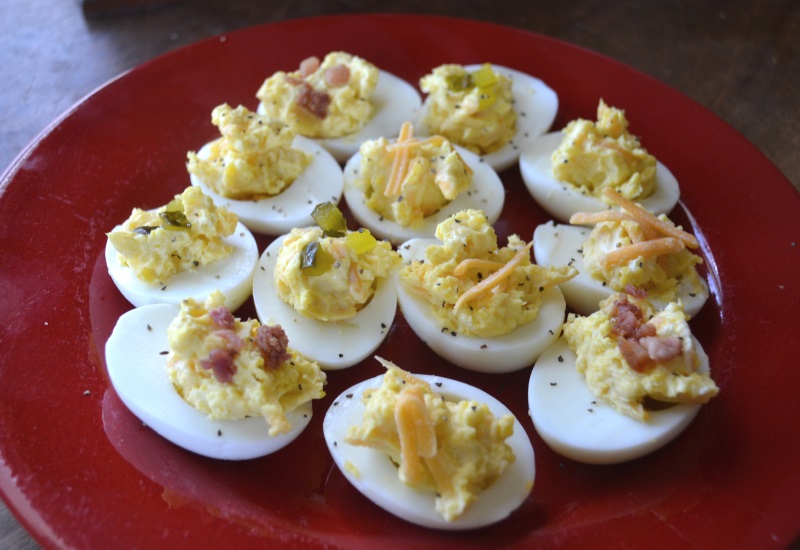 However, it's important to remember that I am the oldest of five children. Somewhere along the line, mom's rule of one dozen boiled, colored and hidden eggs per child became a whole heck of a lot of eggs. Think about the simple math… 5 times 12 equals 60. That's a lot of eggs to hide and find. That's a lot of eggs to eat.
We developed a couple of recipes to use up the large quantity of eggs. You know, hard boiled eggs don't keep forever. We had to eat all 60 of those eggs in fairly short order. We had the deviled eggs for Easter dinner. We had egg salad sandwiches in our lunches. We had chopped eggs on our salads at supper. We had hard boiled eggs for a snack.
In my adult experience, I've learned that Deviled Eggs play an important role in potlucks. Any potluck worth it's weight in food will have at least one offering of Deviled Eggs on the appetizer table. In fact, Deviled Eggs are serious business. Families have secret recipes and it is quite an honor to be the designated Deviled Egg provider at a community potluck.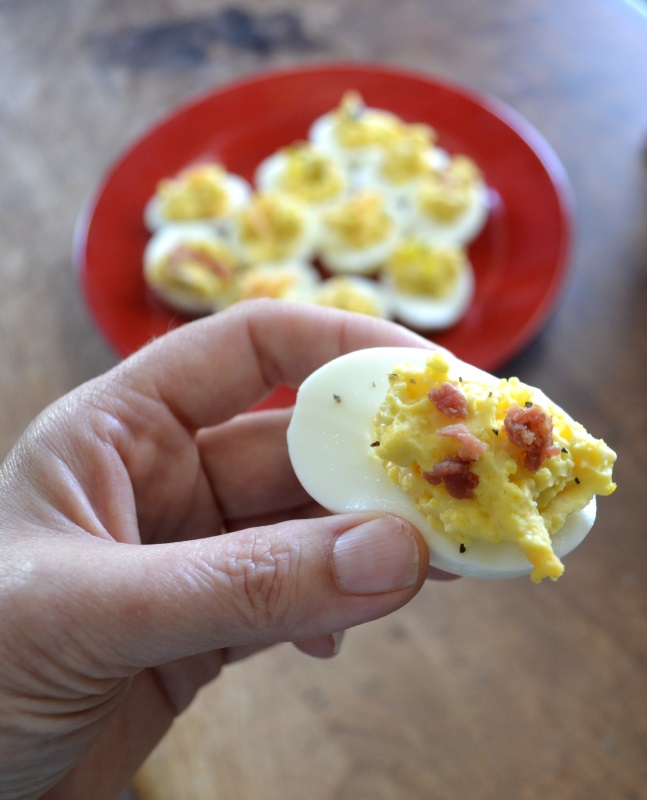 Super Easy Cheesy Deviled Eggs - everybody will love them! Make a plate today.
Click To Tweet
How to hard boil eggs
Place eggs in a medium pan, and fill the pan with just enough cold water to cover the eggs. Place on medium heat until small bubbles start to rise, then turn heat to high. Boil for 3 minutes and then turn off the heat. Cover the pan tightly and let sit for 15 minutes. (this is the method I use and I've found it works perfectly)
Are you one of those people who perpetually burns the eggs in the pan and are afraid to boil eggs? Then ask one of your neighbors to buy the eggs and boil them at their house. Have them drop the finished product off on their way to Sunday brunch. Reimburse them for their trouble. Don't tell them why you need their assistance.
Buy your hard boiled eggs from the deli counter. It's cheaper than ruining a whole dozen eggs. It's safer. The fire department doesn't have to make a house call.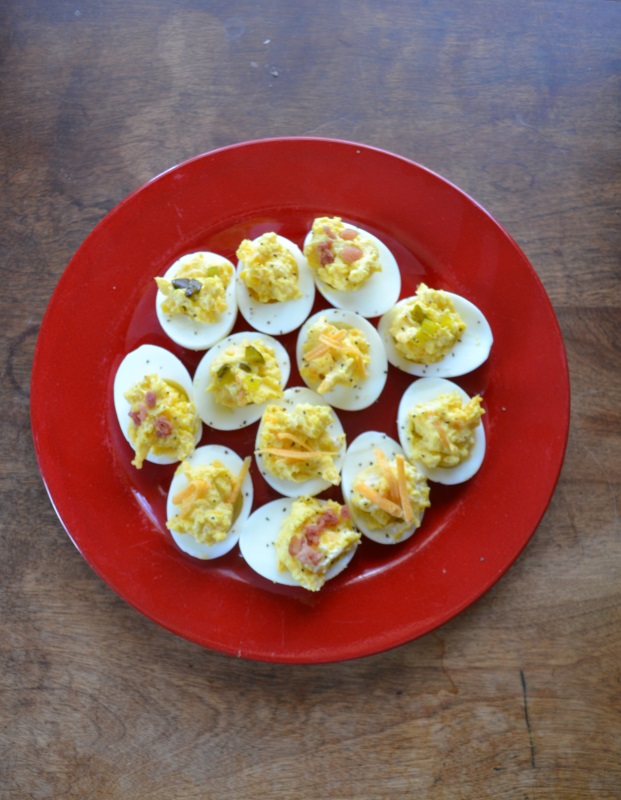 Make It a Meal:
Easter dinner usually meant Green Bean Casserole and Sweet Potatoes along with the ham. However, we eat them with almost anything these days. Not going to wait for Easter to make these easy cheesy deviled eggs.
Pin It: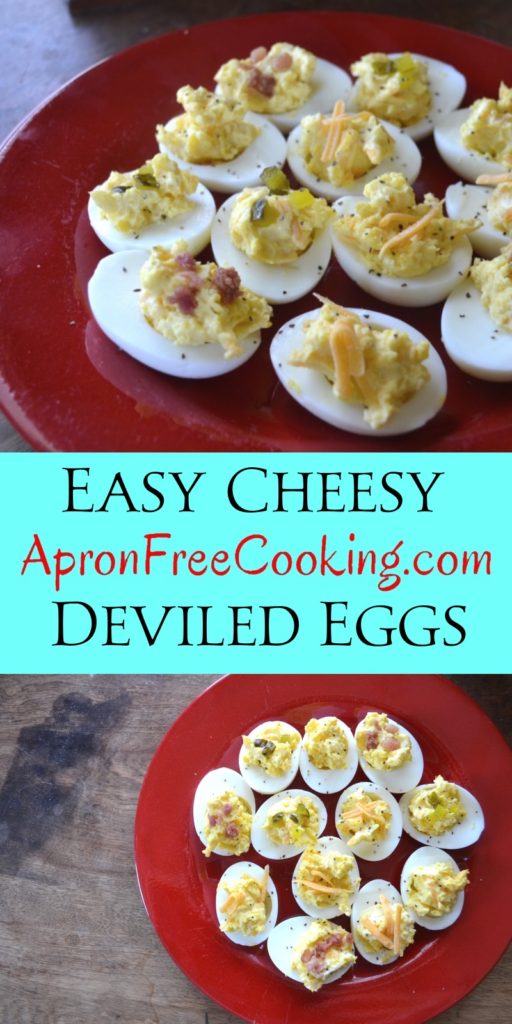 Super Easy Cheesy Deviled Eggs Recipe
Ingredients:
6 large eggs
2 TB mustard
4 TB mayonnaise
1/3 cup shredded cheddar cheese
Dash pepper
Recipe Directions:
Peel hard boiled eggs.  Slice eggs in half.
Place yolks in a bowl and whites on a plate.
Using a fork, smash egg yolks into crumbly bits.
Add mayonnaise, cheese and mustard to yolks and mix well.
Scoop spoonfuls of yolk mixture into cups of egg whites.
Sprinkle with pepper to taste.
Approximate Nutritional Information:
Servings 12. Amount Per Serving: Calories: 88, Total Fat: 7g, Cholesterol: 99mg, Sodium: 143mg, Carbs: 3g, Protein: 4g.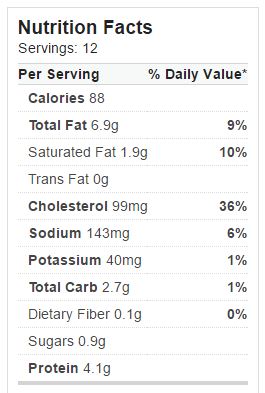 Variations:
Additional mix ins that you can use include bacon bits, pickle relish, chopped chives, diced onion, Tabasco sauce or olives. If you want to raise the cheese bar, replace the mayonnaise with ricotta cheese. Sprinkle with sea salt, red pepper or paprika.
Tips:
If you want to make your eggs extra pretty, and you have one of those icing bags with the snazzy tips that bakers use, you can pipe the yolks into the eggs white cups. These always look so nice when I see them at potlucks. I don't have any fancy baking equipment like that, so the best I can do is a teaspoon dollop in my eggs.
I read somewhere that a plastic zip top bag with the corner snipped off works almost as nicely as the icing bag.
Shop Apron Free Cooking on Etsy
Follow ApronFreeCooking:
Twitter – @ApronFreeCook
This post may contain affiliate links . There are no additional costs passed on to you if you click on the links in this post. Any money earned from commission helps me cover the cost of maintaining this website.